Product News: Electronic Components & Devices
Axial Wirewound Safety Resistor withstands surges up to 6 kV.
Press Release Summary: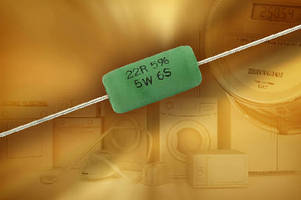 January 16, 2014 - Designed to ensure safe and silent fusing operation during overload conditions, Draloric AC05..CS features fusing time of less than 45 sec for 100 W overload. Unit has non-flammable silicon cement coating for immediate interruption without flame and explosion when AC mains voltage of 230 Vac is applied. Providing power rating of 5 W at ambient temperature of 40°C, RoHS-compliant device offers resistance from 10–100 Ω and is suited for energy meters, home appliances, and power supplies.
Original Press Release
Vishay Intertechnology 5 W Axial Silicone Cemented, Fusible Wirewound Safety Resistor Offers Surge Voltage Capability up to 6 kV
Press release date: January 15, 2014
For Energy Meters, Home Appliances, and Power Supplies, Device Features Fusing Time of < 45="" s="" for="" 100="" w="">

MALVERN, Pa. — Vishay Intertechnology, Inc. (NYSE: VSH) today introduced a new 5 W axial silicone cemented, fusible wirewound safety resistor that is the industry's first designed to ensure safe and silent fusing operation during overload conditions while offering surge voltage withstanding capability up to 6 kV (1.2 µs / 50 µs). For electric appliances, energy meters, and power supplies, the Vishay Draloric AC05..CS combines a fusing time of < 45="" s="" for="" a="" 100="" w="" overload="" with="" a="" special="" non-flammable="" silicone="" cement="" coating="" for="" immediate="" interruption="" without="" flame="" and="" explosion="" when="" ac="" mains="" voltage="" (230="" vac)="" is="">

UL1412 safety approval for the AC05..CS has been initiated and is expected by February 2014. In addition to fusing "without a bang," the safety resistor acts as an inrush current limiting resistor during normal operation. The device's specially developed non-flammable silicone cement lacquer coating allows designers to meet safety requirements more easily, while eliminating the need to utilize additional fuses in series with the input resistor.

The AC05..CS provides a power rating of 5 W at an ambient temperature of 40 °C and 4.5 W at 70 °C. The RoHS-compliant device offers resistance from 10 Ω to 100 Ω, resistance tolerance of ± 5 %, and temperature coefficient (TCR) of ± 200 ppm/K.

Samples and production quantities of the AC05..CS safety resistor are available now, with lead times of eight to 10 weeks. Pricing for U.S. delivery starts at $0.35 per piece.

Vishay Intertechnology, Inc., a Fortune 1000 Company listed on the NYSE (VSH), is one of the world's largest manufacturers of discrete semiconductors (diodes, MOSFETs, and infrared optoelectronics) and passive electronic components (resistors, inductors, and capacitors). These components are used in virtually all types of electronic devices and equipment, in the industrial, computing, automotive, consumer, telecommunications, military, aerospace, power supplies, and medical markets. Vishay's product innovations, successful acquisition strategy, and "one-stop shop" service have made it a global industry leader. Vishay can be found on the Internet at www.vishay.com.

IHLP is a registered trademark of Vishay Intertechnology.

http://twitter.com/vishayindust
http://www.facebook.com/VishayIntertechnology