Product News: Materials & Material Processing
Automotive Wax features low drag coefficient.
Press Release Summary: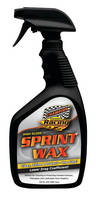 March 27, 2014 - While intended for racers and auto enthusiasts, Sprint Wax™ is formulated to clean, shine, and protect most types of vehicles. Resulting barrier sheds dirt, rubber, and other debris. Used on vehicles with gloss and matt paint surfaces and laminated vinyl graphics, product can be applied to glass, chrome, paint, plastic, fiberglass, tires, and vinyl. Product leaves behind high-gloss, low-drag shine and can be used in direct sunlight. Prewash is not required.


Original Press Release
Champion Announces Low-Drag Coefficient Sprint Wax(TM) for Racers and Auto Enthusiasts
Press release date: March 26, 2014
Champion Oil, a globally recognized industry leader in performance lubricants, additives, chemicals and motor oils for over 55 years, announced today a new Low-Drag Coefficient Sprint Wax™ for racers and auto enthusiasts.

The Champion Sprint Wax™ is formulated to clean, shine, and protects most all types of vehicle applications. The low-drag coefficient characteristic lends itself to racing and performance vehicles with gloss and matt painted surfaces, fiberglass and laminated vinyl graphics.

Karl Dedolph, Director for Champion Oil, announced today,  "The Champion Sprint Wax™ is a great addition to our family of racing and performance products found in most racing events in North America including the National Hot Rod Association (NHRA), All Star Circuit of Champions (ASCoC), American Sprint Car Series (ASCS), World of Outlaws (WoO), United States Auto Club (USAC), the International Motor Contest Association (IMCA) and the National Association of Diesel Motorsports (NADM)".

"There are many other popular series such as MOWA, UMP, USCS, IRA, MLRA, NHRA, MARA, NDHRA and MARS", added Dedolph. "These sanctioning bodies will also benefit from the low-drag coefficient formula and ease of use with our Sprint Wax™. Champion Racing and Performance products are the choice of champions and our innovation and technical knowhow are at the heart of Champion's Racing and Performance Division".

Champion Sprint Wax™ cleans and shines glass, chrome, paint, plastic, tires and vinyl while leaving a high gloss, low drag shine. It is an ideal product for fiberglass, aluminum, painted surfaces and laminated vinyl graphics and decals on racecars.

Perfect for a quick "clean and shine" at the show or track. Champion Sprint Wax™ can be used in direct sunlight and no prewash is needed. Makes clean up quick and easy and it creates a barrier that sheds dirt, rubber and other debris making your next cleanup even easier!

About the company: Champion Brands, LLC, is a globally recognized industry leader in specialty lubricants for over 57 years. Champion also produces and blends over 300 products including fuel, oil, engine additives, and lubricants for the racing, automotive, heavy truck, agricultural, manufacturing, industrial, and specialty markets. For more information about Champion Sprint Wax™ contact your nearest Champion Distributor, or call Champion at 660-890-6231. Champion Brands, LLC; 1001 Golden Drive, Clinton, MO, 64735 or go to http://www.championbrands.com