Automated Commissioning System aids OEMs and end-users.
Press Release Summary: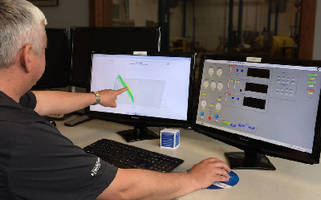 April 18, 2014 - Offering skill and expertise of magnetic bearing engineer in toolkit of intelligent programs, Automated Commissioning System enables OEMs and end-users to carry out maintenance and commissioning process. Computer-based automation collects and archives essential data, which minimizes time required for maintenance. Software can monitor machine progress and recording measurements as soon as machine is ready. Multiple readings can be collected within seconds to ensure accurate assessment.
Waukesha Magnetic Bearings
Original Press Release
Waukesha Magnetic Bearings® Automated Commissioning System Outperforms Hands-On Commissioning Procedures
Press release date: April 16, 2014
Pewaukee, WI, – Waukesha Magnetic Bearings®, an industry leader in custom-engineered magnetic bearing systems for large turbomachinery and high-performing rotating equipment, announces the availability of its Automated Commissioning System. Waukesha's Automated Commissioning System offers the skill and expertise of an experienced magnetic bearing engineer condensed and conveniently packaged into a toolkit of intelligent programs.

"Automated Commissioning gives OEMs and end-users the ability to carry out the maintenance and commissioning process. This results in a repeatable, consistent process that's faster and reduces total lifetime cost of ownership," said Richard Jayawant, Director of Engineering at Waukesha Magnetic Bearings. "Automated Commissioning further establishes Waukesha Magnetic Bearing's commitment to leading the bearing industry with innovation and reliability that continues to meet our customers' needs."

By taking an OEM or end-user engineer through the commissioning process in a highly structured sequence, Waukesha's Automated Commissioning System can allow a magnetic bearing system to be commissioned into operation without the presence of an active magnetic bearing (AMB) specialist. Featuring computer-based automation, the Automated Commissioning System is much faster than hands-on commissioning procedures. The system's computer automation delivers automatic collection and archiving of essential data, which ensures reduced time required for planned maintenance.

View the Waukesha® Magnetic Bearings Automated Commissioning brochure (PDF) or webpage.

The Automated Commissioning System software is capable of monitoring machine progress and recording measurements as soon as the machine is ready, which minimizes measurement time. Multiple readings can be collected within a few seconds to ensure an accurate assessment. The Automated Commissioning System is available on Elephanta®, Chinook®, and Zephyr® magnetic bearing systems. The system will provide faster commissioning by providing end-users with automatic checks after maintenance, independent of the OEM. Providing a path toward true machine prognostics, in addition to reduced site time, cost and reduced need for an AMB specialist, the Automated Commissioning System will ensure rapid identification for the degradation of machine performance and the ability to consistently tune repeat units.

Automated Commissioning is suitable for initial-build (OEM), end-user installation and maintenance work. It provides the OEM with an ability to commission and maintain independently, providing quicker commissioning on first-of-class machines.

For information on Waukesha Magnetic Bearings' Automated Commissioning System, please contact us at www.waukbearing.com,  magsales@waukbearing.com  or +1 (401) 385-2701.

Waukesha Magnetic Bearings (WMB) leads the industry in field-proven magnetic bearing systems ideal for remote commissioning, monitoring and diagnostics for large turbomachinery and high-performing rotating equipment in oil & gas, power generation and defense markets.  Our hardware designs allow direct immersion in the process fluid often eliminating shaft seals. Our software provides for automatic tuning and remote monitoring and diagnostics thus reducing operating costs while maintaining near perfect availability.  WMB is a Waukesha Bearings business.  Visit www.waukeshabearings.com for more information.

MEDIA:  Darren Wight
dwight@deanhouston.com
(513) 280-0047

SALES: Waukesha Magnetic Bearings
magsales@waukbearing.com
(401) 385-3700