Auto Focus Modules are for board-mounted CCD/CMOS cameras.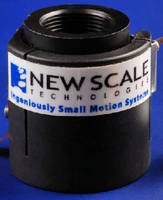 Auto Focus Modules are for board-mounted CCD/CMOS cameras.
October 16, 2009 - Custom auto focus modules accept standard M6-M12 threaded lens assemblies and feature digital (USB or I²C) as well as analog 0-3.3 V motion interfaces. Lens motion module uses SQUIGGLE® motor, TRACKERT position sensor, and integrated electronics to provide high-resolution, closed-loop control. Stroke is greater than 2 mm, velocity is rated to 7 mm/s, and respective values for position resolution and repeatability are 0.5 and 2 µm.

(Archive News Story - Products mentioned in this Archive News Story may or may not be available from the manufacturer.)
Original Press release

New Scale Technologies
121 Victor Heights Pkwy.
Victor, NY, 14534
USA



New Scale Technologies Ships Custom Auto Focus Modules for Board-Mounted CCD/CMOS Cameras


Miniature motion assembly accepts standard threaded lenses; enables higher-performance digital imaging

Victor, NY - October 13, 2009 - New Scale Technologies today announced the first shipment of custom auto focus modules that install directly on board-mounted cameras and accept standard threaded lens assemblies. This compact lens motion module uses New Scale's tiny SQUIGGLE® motor, TRACKERT position sensor and integrated electronics to provide extremely compact, high-resolution closed-loop control. These components are combined with precise mechanical guidance in a robust polymer housing only slightly larger than the optical lens assembly.

"We are now providing plug-and-play motorized focus solutions that can be adapted to any PCB-mounted camera," stated Ralph Weber, product manager at New Scale. "This new product platform is fast, precise and easy to integrate. We enable our customers to create high-performance camera solutions in less time and at lower cost."

This lens motion module can be easily and rapidly customized to fit almost any board-mounted camera using parametric computer design tools. The customer must define the PCB mechanical mounting interface, dimensions of the threaded lens assembly, and the macro and infinity image plane locations. The drive electronics are provided on a separate circuit board that accepts USB, analog and I2C motion commands. As an option, New Scale can provide this chip set for direct integration on the camera circuit board.

Specification summary for customizable AF module
Stroke ....................... > 2 mm
Lens mass ................. up to 10 g
Velocity ...................... 7 mm/s
Encoder type .............. Hall sensor array, incremental (absolute over 2 mm)
Position resolution ........ 0.5 µm (micro meters)
Position repeatability ..... 2 µm (micro meters)
Lens thread ...................M6 to M12
Mechanical limits ..........Included
Standard commands ..... Move to Target, Move Step
Step and settle time.... < 20 ms for a 30 µm (micro meter) step
Motion interface .......... Digital: USB (using Windows® GUI) or I2C
.......... Analog: 0 to 3.3 volts

Price and availability

Typical pricing is $99 each for quantities of 1,000 units and $59 each for quantities of 10,000 units, plus customization fee. Contact New Scale with your requirements: call (585) 924-4450 or email sales@newscaletech.com.

About New Scale Technologies

New Scale Technologies (www.newscaletech.com) creates disruptively small motion systems based on our patented piezoelectric SQUIGGLE® motor, the world's smallest linear motor, and TRACKERT position sensor. The ultrasonic SQUIGGLE motor is smaller, more precise, less expensive, more robust and more power-efficient than other micro motors. The TRACKER position sensor integrates a magnetic sensor with on-chip digital encoder, for smaller size and higher resolution than miniature optical encoders. We create complete motion systems integrating micro motor and sensor technology with supporting electronics (ASICs) developed with our partner austriamicrosystems.

New Scale's micro motors, encoders and micro-actuator modules enable design engineers to create smaller products including mobile phone cameras, electronic locks and intelligent fasteners, nano-scale fluid control including lab-on-a-chip systems, medical devices including miniature drug pumps and endoscopes, optics and imaging systems, automotive modules, lasers, aerospace and defense systems, cryogenic and MRI-compatible instruments, and consumer electronics including micro fuel cells.

SQUIGGLE is a registered trademark and TRACKER is a trademark of New Scale Technologies, Inc. Windows is a registered trademark of Microsoft Corp.

---