Asset Management Software manages calibration test equipment.
Press Release Summary: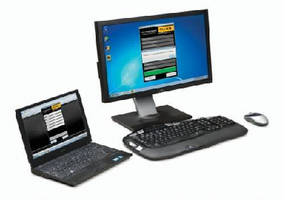 September 26, 2012 - Integrated with MET/CAL® Calibration Management Software, MET/TEAM Test Equipment Asset Management Software allows users to manage all aspects of calibration operation. Browser-based program helps users maintain compliance with regulatory standards, schedule maintenance events, perform batch receiving, create automated email alerts, and track assets through lab. Calibration professionals can also create and print calibration reports, maintain audit trail, and track customer and vendor information.
Original Press Release
Fluke Calibration Introduces MET/TEAM(TM) Test Equipment Asset Management Software
Press release date: September 20, 2012
EVERETT, Wash., -- Fluke Calibration, a leader in precision calibration instrumentation and software, introduces MET/TEAM Test Equipment Asset Management Software, the most comprehensive solution for managing calibration test equipment. The browser-based software is ideal for calibration professionals who need to manage workflow through their calibration labs.

MET/TEAM software is integrated with Fluke Calibration's MET/CAL(®) Calibration Management Software to provide a complete solution for automated calibration and asset management.

MET/TEAM software allows users to:
--  Manage all aspects of calibration operation
--  Improve productivity; reduce operating costs
--  Maintain compliance with regulatory standards
--  Customize for business rules
--  Schedule maintenance events
--  Perform batch receiving
--  Create automated email alerts
--  Track assets through the lab
--  Create and print calibration reports
--  Maintain an audit trail
--  Manage shipping information
--  Track customer and vendor information
--  View business statuses
--  Create data templates; store procedures

Optional modules for MET/TEAM software:
--  Customer Portal --access status and reports online
--  Commerce Module -- manage pricing, quoting and billing; analyze productivity metrics
--  Mobile Module --download a portion of the master database for field use; synchronize updates upon return

MET/TEAM software works with any HTML5 compatible browser, so it can be accessed from anywhere. Multiple levels of security allow controlled access based on individual users or groups, so users see only the information that is appropriate for their security level.

For more information, visit: www.flukecal.com/goteam. To purchase MET/TEAM software, contact your Fluke Calibration sales representative or call (877) 355-3225.

Contact Fluke Calibration
For more information from Fluke Calibration, visit the Fluke Calibration website or contact Fluke Corporation, P.O. Box 9090, Everett, WA USA 98206-9090, or call 1-877-355-3225.

About Fluke Calibration
Fluke Calibration is a leader in precision calibration instrumentation and software for electrical, temperature, pressure, flow, and RF measurements. Calibration products from Fluke Calibration are found in calibration facilities around the world, including National Metrology Institutes, that demand the highest levels of performance and reliability, backed by state of the art metrology and uncompromising support. They are relied on by quality engineers, calibration technicians, and metrologists to instill confidence in the measurements that are critical to their organizations for quality, safety, reliability, and cost.

Fluke and Fluke Calibration are trademarks of Fluke Corporation. The names of actual companies and products mentioned herein may be the trademarks of their respective owners.

For more information:
Leah Friberg
Public Relations Manager
(425) 446-5905
leah.friberg@fluke.com