Product News: Electrical Equipment & Systems
Anti-Vandal Switch offers dot and ring illumination options.
Press Release Summary: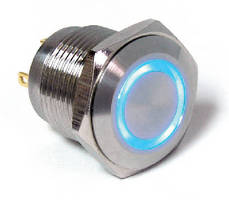 March 18, 2013 - Measuring 16 mm in diameter and rated to IP65 standards, Model PV6 is available with high actuator option, enabling actuation by gloved hands or large fingertips. Unit is also available with black anodized aluminum finish and pilot indicator option with no internal switch contacts. Providing mechanical life of 1,000,000 cycles and electrical life of 50,000 cycles, switch has SPST Off-(On) contact arrangement, contact rating of 2 A at 48 Vdc, and maximum contact resistance of 50 mΩ.
Original Press Release
The PV6 Series Anti-Vandal Switch Now Offers More Features and Options for Your Application
Press release date: March 9, 2013
MINNEAPOLIS, MN --- E-Switch announces new features for the popular PV6 anti-vandal switch. This tamper-resistant switch is used in many applications, including those accessible to the public, and those requiring a sleek design. It offers both dot and ring illumination options and is rated to IP65 standards. The new features for this PV6 series anti-vandal switch include:

1. A high actuator option: Now those with gloved hands or large fingertips can actuate this 16mm diameter switch with ease.
2. PV6 Pilot Indicator option: This allows you to illuminate and communicate on your panel while maintaining a sleep and uncluttered panel design. The pilot indicator has the exact same housing and panel diameter as our PV6 switch, just without the switching contacts. 
3. Black anodized aluminum option: This popular finish is now available in all our PV6 switches and pilot indicator options. 

Specifications for the PV6 include:
• Mechanical Life:  1,000,000 cycles
• Electrical Life: 50,000 cycles
• Contact Rating: 2A @ 48V DC
• Contact Resistance: 50mΩ Max
• Insulation Resistance: 1,000 MΩ min
• Dielectric Strength: 2,000VAC
• Operating Temperature: -20°C to 55°C
• Operating Force:  4 N
• Travel: 1.5mm
• Contact Arrangement: SPST, Off-(On)
• Panel Thickness: 1-10mm
• Panel Cutout: 16mm diameter
• Moisture Protection: IP67 rated

Visit E-Switch at www.e-switch.com to request your full-line catalog! You can also request a sample of one of over 4,000 discrete part numbers for one of your projects!

About E-Switch.
In 2009, E-Switch, Inc. acquired Lamb Industries and now offers one of the broadest switch lines available today. E-Switch has been delivering innovative and quality switches to the electronics, telecom, high tech, instrumentation, industrial, appliance and consumer markets since 1979. Located in Minneapolis, Minnesota, their global reach extends to Europe, Asia and Latin America. Products include Rocker, Toggle, Slide, Tact, Pushbutton, Dip, Rotary, Keylock, Snap Action, Power, illuminated switches, and more. E-Switch has local reps, distributors, engineers and account managers on hand to provide specifying assistance and quick response to requests, along with a top notch sampling and cross-referencing program. E-Switch's online catalogs include complete specifications, drawings and schematics. www.e-switch.com