Product News: Test & Measuring Instruments, Computer Hardware & Peripherals
All-in-One OTN Tester enables full/multi-stage mapping.
Press Release Summary: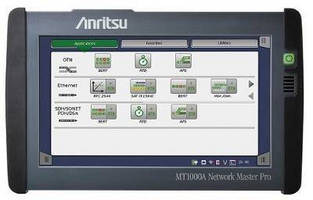 July 31, 2014 - Supporting WLAN, Bluetooth, and LAN connectivity for remote operation, dual-port MT1000A Network Master Pro lets users conduct Optical Transport Network (OTN) mapping of all client signals as well as multi-stage mapping. Capability to measure with Ethernet and SDH/SONET client signals helps technicians install and maintain mobile and fixed-access, metro, and core transmission networks. Together with MU100010A test module, provides all capabilities required for field testing OTN.
Original Press Release
Anritsu Redefines Field Transport Testing with Introduction of First All-in-one Instrument with Full OTN Mapping
Press release date: July 25, 2014
-- MT1000A Network Master Pro Features OTN Mapping of all Client Signals and Multi-state Mapping, Plus Dual Ports at all Rates in Compact, Easy-to-use Design --

RICHARDSON, Texas -- Anritsu Company introduces the MT1000A Network Master Pro, an all-in-one optical field instrument that redefines transport testing by having the ability to conduct Optical Transport Network (OTN) mapping of all client signals as well as multi-stage mapping in a lightweight, small portable package that is easy to use. The MT1000A Network Master Pro is the first compact, all-in-one OTN tester that provides users with the capability to measure with Ethernet and SDH/SONET client signals, making it easier for technicians to install and maintain mobile and fixed-access, metro, and core transmission networks.

The MT1000A Network Master Pro, together with the MU100010A test module, provides all the capabilities required for field testing an OTN. It supports the new OTN features ODU0 and ODUflex, as well as Ethernet, Fibre Channel and SDH/SONET at rates up to 10 Gbps. Legacy PDH and DSn interfaces can also be measured with the MT1000A Network Master Pro. Field technicians can use the instrument to quickly and accurately locate and solve problems in the transport network without having to contact a remote network operations center.

"Modern networks are utilizing enhanced packet optical transport technology such as OTN to support robust, fault tolerant transport of native Ethernet- and TDM-based clients over optical meshed networks. Additionally, Fibre Channel has grown significantly to meet the demand for data center connectivity and storage area networks (SANs). Anritsu has developed the MT1000A to support the network operator, administrator, engineer, and technician who must measure existing client traffic as stand-alone native signals as well as encapsulated clients in OTN transport," said Pete Alexander, PhD, Vice President and General Manager of Anritsu Company.

Designed with dual ports at 10 Gbps, the MT1000A Network Master Pro can test at all supported interfaces and rates. The two ports can be used independently, effectively providing field technicians with two instruments in a single solution that improves test time and simplifies measurements while reducing cost-of-test. Two-port testing can also be used for in-service bi-directional monitoring of live traffic links, providing a new ability to maintain and optimize existing networks and test networks while in operation. The result is the ability to pinpoint problems faster and reduce network downtime. All test results can be converted into .pdf or XML reports for documentation and record-keeping.

Anritsu designed the MT1000A Network Master Pro specifically to address today's field testing requirements. A large, nine-inch touch screen makes results easy to read and simplifies using the intuitive GUI of the MT1000A Network Master Pro. The small form factor makes the instrument easy to transport, even in confined spaces. Battery-operated, the MT1000A Network Master Pro can operate for up to three hours before needing to be recharged. Offering WLAN, Bluetooth and LAN connectivity options, the MT1000A Network Master Pro can be operated remotely.

About Anritsu Company
Anritsu Company is the United States subsidiary of Anritsu Corporation, a global provider of innovative communications test and measurement solutions for more than 110 years. Anritsu provides solutions for existing and next-generation wired and wireless communication systems and operators. Anritsu products include wireless, optical, microwave/RF, and digital instruments, as well as operations support systems for R&D, manufacturing, installation, and maintenance. Anritsu also provides precision microwave/RF components, optical devices, and high-speed electrical devices for communication products and systems. With offices throughout the world, Anritsu sells in over 90 countries with approximately 4,000 employees.

To learn more visit www.anritsu.com.

CONTACT:
Anritsu Contact:
Kim Collins
Director, Americas Marketing
Kim.collins@anritsu.com
972.761.4625

Agency Contact:
Patrick Brightman
3E Public Relations
pbrightman@3epr.com
973.263.5475