Product News: Electronic Components & Devices, Optics & Photonics
All-in-One Auto Focus Controller enhances smartphone cameras.
Press Release Summary: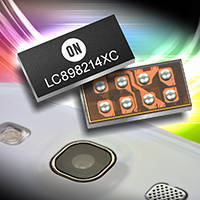 July 22, 2014 - Supplied in WLCSP-8 package, LC898214XC integrates all functions for closed auto focus driver: digital logic as closed auto focus control, Hall device as positioning sensor, EEPROM for storage of filter parameters and compensation data, and constant current driver as actuator driver. Other features include digital loop filter, auto focus convergence with temperature compensation, and integrated constant current driver. Loop filter coefficients are adjustable via I²C interface.
Original Press Release
ON Semiconductor Introduces All-in-One Auto Focus Controller for Smartphone Camera Modules
Press release date: July 16, 2014
Integrated solution delivers high performance auto focusing as well as lower power consumption.

PHOENIX, Ariz. — ON Semiconductor (Nasdaq: ONNN), driving energy efficiency innovations, has introduced the LC898214XC Auto Focus Controller for camera modules in smartphones.

This integrated solution features digital loop filter and provides fast, accurate auto focus convergence with temperature compensation, while consuming minimal power.  The integrated constant current driver provides lower electro interference noise than competing solutions. In addition, the space-saving design enables thinner and lighter smartphones.

"There is a strong and growing demand for improved smartphone camera features – specifically for fast, accurate, power-friendly auto-focus," said Ikuya Kawasaki, general manager of the Intelligent Power Solution division at ON Semiconductor. "We developed this highly integrated, all-in-one auto focus controller for the specific demands of smartphone applications. The market demands higher performance auto focusing, with low power consumption and small size. The LC898214 provides the desired accuracy  with a closed auto focus system."

LC898214XC integrates all functions for the closed auto focus driver, including digital logic as a closed auto focus control, Hall device as a positioning sensor, EEPROM for the storage of filter parameters and compensation data, and a constant current driver as an actuator driver.  The closed auto focus system provides for more accurate auto focus control, while also lowering power consumption compared with open loop systems.  The loop filter coefficients are adjustable via an I2C interface, allowing the device to be programmed for optimal convergence time when paired with various different actuators. These integrated features support a closed auto focus system, and can provide higher auto focus performance from one integrated circuit.

Packaging and Pricing
LC898214XC is offered housed in a Pb-free, Halide-free WLCSP-8 package and is priced at $0.88 USD per unit in quantities for 4,000 units.

Follow @onsemi on Twitter: www.twitter.com/onsemi

About ON Semiconductor
ON Semiconductor (Nasdaq: ONNN) is driving energy efficient innovations, empowering customers to reduce global energy use. The company offers a comprehensive portfolio of energy efficient power and signal management, logic, discrete and custom solutions to help design engineers solve their unique design challenges in automotive, communications, computing, consumer, industrial, LED lighting, medical, military/aerospace and power supply applications. ON Semiconductor operates a responsive, reliable, world-class supply chain and quality program, and a network of manufacturing facilities, sales offices and design centers in key markets throughout North America, Europe, and the Asia Pacific regions. For more information, visit http://www.onsemi.com.

ON Semiconductor and the ON Semiconductor logo are registered trademarks of Semiconductor Components Industries, LLC. All other brand and product names appearing in this document are registered trademarks or trademarks of their respective holders. Although the company references its Web site in this news release, such information on the Web site is not to be incorporated herein.

Contacts

Nobuo Horiuchi
Media Relations
ON Semiconductor
+81-3-5817-1055
Nobuo.Horiuchi@onsemi.com

Parag Agarwal
Senior Director Investor Relations
ON Semiconductor
(602) 244-3437
Parag.Agarwal@onsemi.com