All-Wheel Steer Loader can be used in various working conditions.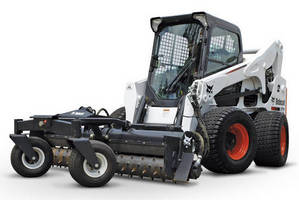 All-Wheel Steer Loader can be used in various working conditions.
April 7, 2011 - Offering switch-actuated all-wheel (AWS) and skid-steer drive options, A770 suits applications requiring low ground disturbance, reduced tire wear, and fast travel speed as well as maneuverability. Features include vertical lift path, 132 in. lift height, 31.5 in. reach, and 42° dump angle. With 12.6 turning dia in AWS mode and 7.2 ft in skid-steer mode, loader employs 2-speed transmission and has 12.3 mph (high range) and 7.1 mph low range travel speed.

(Archive News Story - Products mentioned in this Archive News Story may or may not be available from the manufacturer.)
Original Press release

Bobcat Company
250 E. Beaton Dr.
West Fargo, ND, 58078
USA



Bobcat's A770 All-Wheel Steer Loader Provides Versatility in Various Working Conditions


(WEST FARGO, N.D.) Bobcat Company has updated its line of all-wheel steer (AWS) loaders by introducing the Bobcat® A770. The new unit - which offers both all-wheel steer and skid-steer drive options by simply pressing a switch - has a vertical lift path and a 3325 lb. rated operating capacity (ROC).

The A770 replaces the A300 model, and was designed to meet the needs of users who require the low ground disturbance, reduced tire wear and faster travel speed of a small wheel loader, but also the maneuverability and versatility of a skid-steer. That makes the A770 the ideal machine for landscapers, retaining wall installers, paving crews and general contractors, as well as industrial users who face multiple operating conditions on a daily basis.

The design provides superior lift height (132 inches), reach (31.5 inches), and dump angle (42 degrees) for easy truck loading. The new design also results in a hefty 3,325-lb. rated operating capacity (ROC) and a 6,650-lb. tipping load.

It comes standard with two-speed transmission and a travel speed of 12.3 mph in high range and 7.1 mph in low range. The A770 is equipped with a 92-horsepower, liquid-cooled Tier 3 diesel engine and has an operating weight of 9,460 pounds.

The A770 has a turning circle diameter of 12.6 feet in AWS mode and 7.2 feet in skid-steer mode.

Production is key
The A770 all-wheel steer loader has the same increased hydraulic performance as the other M-Series loader models, enabling it to efficiently accomplish more work. The hydraulic systems on M-Series loaders have been engineered for higher standard flow and pressure that give attachments more power to work more quickly.

New job-enhancing features were added to the optional deluxe instrumentation panel. Available only on M-Series machines, the panel intelligently monitors key loader functions, and the keyless start with password protection helps prevent theft. The new 5-inch, full-color LCD screen offers better readability and interaction. Easy-to-read virtual sweep gauges allow the operator to quickly read and understand the machine's performance.

Increased uptime
The loaders are designed to work long hours on demanding jobsites, and operators want to spend minimal time on routine maintenance to start the workday earlier. Simple checks and superior design make it easier to perform maintenance correctly at the proper intervals.

The auxiliary hydraulic quick couplers are mounted directly to the front plate of the lift arm to provide a solid mounting and hoses are routed through the loader arms for better protection. A guard bar extends in front of the coupler for added security.

Keeping the loader cool when working long hours is important in prolonging the service life of the machine. That is why Bobcat redesigned the cooling system on the M-Series for increased efficiency and higher performance. The new design also makes it easier to clean out the cooling system, with an oil cooler that swings up, allowing the operator to clean the area between the oil cooler and the radiator.

Improved visibility
The A770, like other M-Series loader models, features a unique cab-forward design that not only makes the loaders look different, but also moves the operator closer to the attachment and provides unmatched visibility in all directions.

Superior visibility is provided to the cutting edge of the bucket or the corners of an attachment because the cab door is the largest available on the market. The cab door threshold has been lowered and the overall surface of the door has increased more than 40 percent to provide improved visibility and make it easier for operators to enter and exit the cab.

Windows on the sides and rear of the cab have also been increased in size to provide more visibility to the tires and to the rear. The larger top window makes it easier and more comfortable for the operator to see the attachment with the lift arms raised; an advantage when loading trucks or performing other tasks.

Cab comfort
Comfortable operators are more productive, so to create a better working environment, Bobcat increased the size of the M-series cab by 10 percent, redesigned the interior to allow operators to adjust the environment to their individual preferences and improved cab pressurization.

Bobcat M-Series loaders have a best-in-class pressurized cab, with a new one-piece seal that goes all the way around the door and fits into a special curved pocket. This minimizes the amount of dirt and dust that might enter the cab, creating more enjoyable working conditions and making it easier to clean the cab.

Noise is another factor affecting operator comfort, and Bobcat reduced the sound level of M-Series loaders by more than 60 percent. New engine mounts improve isolation to decrease vibration and reduce sound levels.

The standard joystick control levers move up and down in conjunction with the seat to reduce arm movement and fatigue as the operator controls the machine. These joysticks are also mounted on slides so they can be adjusted forward or backward to the preference of each individual operator.

Visit www.bobcat.com for more information on the Bobcat A770 all-wheel steer loader.

ABOUT BOBCAT COMPANY
Bobcat Company, headquartered in West Fargo, N.D., is a business of Doosan Infracore Co., Ltd., a worldwide leader in the manufacturing and distribution of compact and heavy industrial products. Bobcat compact equipment includes skid-steer, all-wheel steer and compact track loaders; compact excavators; mini-track loaders; VersaHandler® telescopic tool carriers; utility vehicles; compact tractors and Toolcat(TM) utility work machines. Bobcat is a global brand with more than 600 dealer locations in North America and the leader in compact equipment - the industry's original innovator, beginning more than 50 years ago with the first compact machine and predecessor to the skid-steer loader. For more information on Bobcat products, visit www.bobcat.com.

QuickLook: Bobcat A770 all-wheel steer loader


Rated operating capacity: 3325 lb.

Operating weight: 9460 lb.

Vertical lift path

Engine: Tier 3, 92 hp

Height: 81.3 in.

Width with bucket: 74 in.

Length with bucket: 141.6 in.

Height to hinge pin: 132 in.

Maximum travel speed: 7.1 mph - single speed
12.3 mph - two speed

Tipping load: 6650 lb.

Hydraulic flow: standard flow - 23.0 gallons per minute
optional high flow - 36.5 gallons per minute

Standard joystick controls

---


Start Your

Free


Subscription to


Industry Market Trends

.