Air Cylinders suit heavy-duty applications.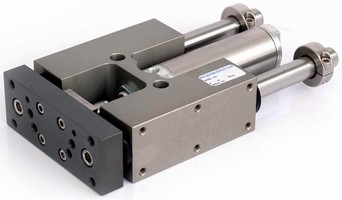 Air Cylinders suit heavy-duty applications.
August 20, 2007 - Capable of strokes up to 32 in., ESH Series features slide body of hardcoat anodized aluminum and air cylinder with stainless steel body and rod. Guided linear motion device, offered in bore sizes from 5/16-3 in., has steel/stainless steel guide shafts, polyurethane bumpers, and adjustable shaft collars. Alignment coupler offers 360° of float, eliminating side-loading of cylinder, and precision bearings are sealed with self-aligning and self lubricating rod wipers.

(Archive News Story - Products mentioned in this Archive News Story may or may not be available from the manufacturer.)
Original Press release

Air Cylinders Direct
103 Sam Watkins Blvd.
Mt. Pleasant, TN, 38474
USA



Air Cylinders Direct is Proud to Announce the Launch of the ESH Series


Air Cylinders Direct is proud to announce another new product. The ESH Series is a guided linear motion device capable of heavy loads and moderately long strokes. The slide body is hardcoat anodized aluminum and the air cylinder is a high quality stainless steel body and rod cylinder.

Features
o Bore Sizes: 5/16" - 3"
o Strokes: Up to 32"
o Body: Hardcoat anodized aluminum (6061-T6511)
o Cylinder: Stainless Steel body & rod (corrosion resistant), up to 3" diameter bore size
o Alignment Coupler: 360° of float, eliminates side-loading of the cylinder
o Tooling Plate: Universal mounting pattern with standard dowel locating holes.
o Guide Shafts: Hardened Steel, (stainless available), large diameters for increased load capability
o Bearings: Precision bearings sealed with rod wipers (self-aligning, self lubricating, low friction, maintenance free)
o Bumpers: Durable polyurethane material
o Adjustable Shaft Collars: End of stroke adjustment

1-866-404-5300 - telephone
sales@AirCylindersDirect.com
www.AirCylindersDirect.com

---


Start Your

Free


Subscription to


Industry Market Trends

.