Product News: Electrical Equipment & Systems
Adjustable Output DC/DC Converter powers RFPA applications.
Press Release Summary: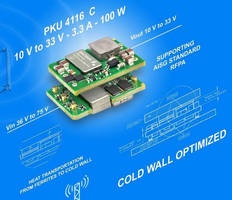 March 3, 2014 - Delivering up to 100 W and 3.3 A from 1.3 x 0.9 x 0.38 in., sixteenth-brick footprint package, PKU4116C features adjustable output range of 10–33 V, which meets AISG specifications, and powers radio frequency power amplifier (RFPA) applications. Outputs can be interconnected in parallel or in series, and efficiency is rated at 93.1% at full load and 30 V output. Along with MTBF of 5.2 million hr, converter features 36–75 V input range and input/output isolation of 1,500 Vdc.
Original Press Release
Ericsson Power Modules Lowers Inventory Costs with Ultra-wide Voltage Module for Radio Applications
Press release date: February 25, 2014
• New DC/DC modules feature ultra-wide output voltage range from 10V to 33V to power wide radio-frequency power amplifier applications
• Flexibility with parallel and series mode of operation available reduces inventory costs
• Enhanced thermal layout improves power dissipation for cold-wall assembling
• Isolation simplifies implementation in three-wire telecom systems

Ericsson has introduced a new DC/DC converter module that has been designed to power radio-frequency power amplifier (RFPA) applications. Key to the new PKU4116C module is flexibility with its ultra-wide adjustable output voltage from 10V to 33V. This meets specifications as defined by the Antenna Interface Standards Group (AISG), which mandates a 10–30V input voltage range to power active RF antennas and base stations. In addition, the PKU4116C delivers power up to 100W and an output current of 3.3A, making it ideal to power RFPA applications that use semiconductor technologies such as Laterally Diffused Metal Oxide Semiconductor (LDMOS) or Gallium Nitride (GaN).

Benefiting from the ultra-wide output voltage, board power designers can significantly reduce inventory by adjusting the PKU4116C to specific voltages within the 10V to 33V range. Outputs can be interconnected in parallel when higher current is required, and in series to double the output voltage to power 50V or even higher power transistors. The combination of the wide output range and serial operation simplifies design and reduces time-to-market.

Available in an industry-standard sixteenth-brick footprint with dimensions of 1.3 x 0.9in with a low-profile height of just 0.38in (33 x 22.9 x 9.6mm) the device delivers up to 100W of power and provides 93.1% efficiency at full load and 30V output, guaranteeing low power dissipation and reduced energy consumption. The PKU4116C series delivers outstanding thermal performance for applications that have limited airflow. The series delivers full performance up to 90°C with 3.0m/s airflow cooling and, in worse case conditions, full output power with natural convection up to 76°C.

"Whereas 'central office' equipment is primarily cooled via ventilation, RFPA modules need to employ thermal conduction via 'cold wall' techniques, exchanging heat with the external environment," said Patrick Le Fèvre, Marketing and Communication Director of Ericsson Power Modules. "This requires that all components assembled inside the RFPA are design optimized for conduction cooling. The PKU4116C's layout uses advanced techniques developed by Ericsson to drain the heat from components via ferrites interfaced to the cold wall."

Operating over a 36V to 75V input-voltage range, the PKU4116C series is primarily designed for applications that are powered by a centralized 48V bus. However, due to its efficient and flexible power performance and large range of output voltage covered from 10V to 33V, the series is also suitable for a wide range of applications in industrial and process control, such as 28V electronic displays or the 12V bus commonly used in automation systems.

Offering an MTBF (Mean-Time-Before-Failure) of 5.2 million hours, the PKU4116C devices meets safety requirements according to IEC/EN/UL 60950-1 and offer input/output isolation of 1500V DC, making the unit suitable for telecom systems that use three-wire configurations. The PKU4116C also includes various protection features, including Output-over-Voltage Protection (OVP), input under voltage shutdown, Over-Temperature Protection (OTP), output short-circuit protection and pre-biased output. The PKU4116C series is available for both through-hole (PI version) and surface-mount (SI version) assembly.

The BMR461 is priced at $8.70 in OEM quantities.

FOR FURTHER INFORMATION, PLEASE CONTACT

Patrick Le Fèvre, Marketing and Communication Director, Ericsson Power Modules
Phone: +46-10-716 95 07

Europe, Middle East & Africa: +46-10-716 96 20
Asia Pacific: + 86-21-5990 3258
Japan: +81 80 3363 3987
Americas: +1-972-583 6910 or +1-972-583 5254

About Ericsson Power Modules www.ericsson.com/powermodules