Product News: Vision Systems, Optics & Photonics
Acylinder Lenses focus light in one dimension.
Press Release Summary: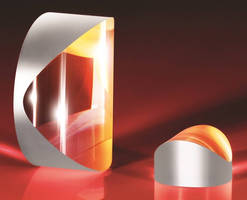 August 27, 2014 - Used for creating sharp, thin line profiles, TECHSPEC® Acylinder Lenses are designed to reduce spherical aberration along focusing axis and provide diffraction-limited focusing performance in one dimension. There are 8 models available, and all can be supplied uncoated or with MgF2 anti-reflection coating. Diameters include 12.5 and 25 mm, and focal lengths include 10, 12.5, 20, and 25 mm.
Original Press Release
TECHSPEC® Acylinder Lenses Focus Light in a Single Dimension
Press release date: August 25, 2014
Diffraction-limited focusing performance

Barrington, N.J. — Edmund Optics® (EO), the premier provider of optical components, introduces its new TECHSPEC® Acylinder Lenses. These lenses are similar to aspheric lenses, as they also provide diffraction-limited focusing performance in only one dimension.

Provide sharp, thin lines
TECHSPEC Acylinder Lenses are designed to reduce spherical aberration along the focusing axis and are an excellent choice for creating thin line profiles. When compared with standard cylinder lenses, TECHSPEC Acylinder Lenses noticeably reduce the spot size of monochromatic light sources to provide sharp, thin lines in a variety of applications.

Eight models with focal lengths from 10-25 mm
TECHSPEC Acylinder Lenses are available in eight designs, with diameters of 12.5 mm and 25 mm and focal lengths of 10 mm, 12.5 mm, 20 mm and 25 mm. All lens models are available uncoated or with a MgF2 anti-reflection coating. TECHSPEC Acylinder Lenses are in-stock and available for immediate delivery for fast turnaround and excellent value.

About EO:
Edmund Optics® (EO) is a leading producer of optics, imaging, and photonics technology for R&D, electronics, semiconductor, pharmaceutical, biomedical, and military markets around the globe. EO is the world's largest supplier of off-the-shelf optical components. Customers can purchase items by contacting EO at 1-800-363-1992, via the catalog, or via the website at www.edmundoptics.com

Company Contact:
Kirsten Bjork-Jones
Director Global Marketing Communications
Edmund Optics®, Inc.
101 East Gloucester Pike
Barrington, NJ 08007 U.S.A.
Phone: 1-800-363-1992
Fax: 1-856-573-6295
email: kbjork-jones@edmundoptics.com