Accumulation Conveyor is flat belt driven.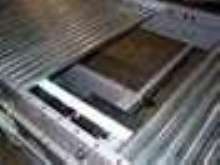 Accumulation Conveyor is flat belt driven.
November 10, 2004 - Accutronic(TM) provides positive transportation and true zero-pressure accumulation. Powered live-roller conveyor features 24 V electric stepper motor lift mechanism and automatic sleep mode. Detectors, built into photo-eye sensors, shut system down 5 seconds after sensing product jam. Operating at max speeds of 240 and 400 fpm, conveyor has weight capacities of 35 and 100 lb/ft. Operational modes include singulation, dual-zone, auto-slug, or slug.

(Archive News Story - Products mentioned in this Archive News Story may or may not be available from the manufacturer.)
Original Press release

FKI Logistex North America
9301 Olive Blvd.
St. Louis, MO, 63132
USA



FKI Logistex Launches Accutronic Belt-Driven Accumulation Conveyor


Belt drive and electric actuation offers zero-pressure accumulation that yields energy savings and quieter, air-free operation

(Cincinnati, OH: November 08, 2004) FKI Logistex® (www.fkilogistex.com), a global leader in integrated material handling solutions, announces the launch of the Accutronic(TM), a new flat-belt-driven, powered live-roller accumulation conveyor with 24-volt electric actuation. Accutronic offers quiet, positive transportation and true zero-pressure accumulation of cases, cartons and totes.

Because Accutronic is belt-driven, it dramatically reduces noise and removes the lubrication requirements associated with chain-and-pad-driven live roller conveyor. Accutronic's 24-volt electric stepper motor lift mechanism also eliminates the need for the compressed air that powers pneumatic-driven live roller conveyor, increasing installation flexibility and producing energy savings.

During transportation, Accutronic's drive belt is electrically raised to engage and power the rollers. When the conveyor's photo-eye sensors detect the presence of product within the next downstream zone that requires upstream accumulation, the belt is lowered, disengaging power from the rollers.

The Accutronic's features include an automatic sleep mode, which disengages the drive if no product has rolled by in eight seconds, and detectors built into the photo-eye sensors that shut the system down five seconds after sensing a product jam. The photo-eye sensors, factory installed and aligned, and control modules in each Accutronic section are delivered ready to run.

Accutronic is designed for medium-duty, high-speed accumulation lines. It offers speeds up to 400 feet per minute on transportation and up to 240 feet per minute on accumulation. Accutronic's weight capacity is 35 lb. per foot for live loads, and 100 lb. per package. Accutronic provides release rates of up to 95 percent and acceptance rates up to 100 percent.

Accutronic is available in three-, six-, nine- and 12-foot lengths with a standard zone length of three feet. Available widths between frames are 16", 22", 28", 34" and 40". Options include 2" or 3" carrier roller centers and carrier rollers with ABEC precision bearings. Accutronic's operational modes are singulation, dual-zone, auto-slug or slug.

Accutronic's design includes easy zone control modules and power connections integrated within the conveyor design. It offers minimal installation time to switch conveyor release modes, and has a safe low-voltage power supply requirement.

"The launch of the Accutronic is further evidence of our dedication to research and development in the material handling industry," says John Westendorf, president, FKI Logistex Warehouse and Distribution North America. "FKI Logistex is committed to meeting the material handling needs of our existing and future customers through continual product innovation."

For sales and marketing information, please contact Lou Shelton, product manager, FKI Logistex Warehouse and Distribution North America, by phone at (513) 682-6774 or by e-mail at lou.shelton@fkilogistex.com.

About FKI Logistex North America

FKI Logistex® North America (www.fkilogistex.com) is a leading provider of automated material handling solutions, supplying its customers with an integrated set of leading-edge technologies in high-speed sortation, conveyor systems, carousels, palletizing, paperless pick products, AS/RS, controls, order processing software, RFID implementation, warehouse control systems, and total materials handling automation.

FKI Logistex Airport, Post and Parcel integrates high-speed sortation and conveying systems to meet the high-throughput needs of postal and parcel customers, and provides advanced baggage handling, security, and RFID track-and-tracing for airports of all sizes. FKI Logistex Manufacturing Systems builds automated material handling systems using state-of-the-art technology for storing, picking, ID solutions, palletizing, kitting, packing and shipping that enable manufacturers to process more orders per day at a lower cost. FKI Logistex Warehouse and Distribution designs high-accuracy, high-speed, high-reliability material handling, sortation, and order fulfillment solutions for warehouses and distribution centers that shrink the supply chain and maximize material handling ROI.

With projects that include many of the world's most advanced material handling operations, FKI Logistex is home to the industry's most successful and recognized brands, including Alvey palletizers, Buschman conveyors, Cleco cranes and AS/RS solutions, Crisplant sorters and baggage handling applications, IoSystems supervisory and automated control systems, Mathews conveyors, Real Time Solutions order fulfillment and picking solutions, and White carousels and automated storage solutions. For more information on FKI Logistex, click here to visit the FKI Logistex media center. For sales information, contact FKI Logistex by phone at (877) 935-4564 or by e-mail at info@fkilogistex.com.

---