AC Power Meters deliver multifunctional operation.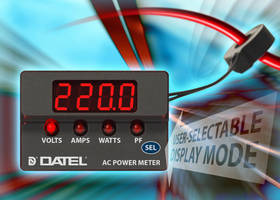 AC Power Meters deliver multifunctional operation.
July 17, 2009 - Designed for mains powered applications, SMT ACM20 series can measure and display AC Volts, Amps, Watts, and Power Factor with ±0.5% FS typ accuracy. It also accurately displays true-rms voltage and current values of triangle and square waves plus other irregularly shaped waveforms. Front panel selector switch allows for fixed reading of any parameter or continuous cycling through all, while 0.36 in., 4-digit, red LED display can be viewed from distances up to 5 m.

(Archive News Story - Products mentioned in this Archive News Story may or may not be available from the manufacturer.)
Original Press release

Murata Power Solutions, Inc.
11 Cabot Blvd.
Mansfield, MA, 02048
USA



ACM20 Series: Universal Four-Function AC Power Meters Provide Compact True rms Metering Solution

Measure true-rms Volts & Amps plus Watts and Power Factor

Universal 85 to 264VAC operating voltage

Rugged and compact one-piece housing suitable for vertical 0U and 1U rack mount installation

Large 9.2mm (0.36in.), four-digit, bright red LED display

Expanding its Datel offering of Digital Panel Meters, Murata Power Solutions has introduced a new series of four-function AC Power Meters. The ACM20 series is able to measure and display AC Volts, Amps, Watts and Power Factor with a typical accuracy of ±0.5% full-scale. Unlike conventional average-responding products, the new meters accurately display true-rms voltage and current values of triangle and square waves plus other irregularly shaped waveforms.

The compact, rugged, surface mount ACM20 series is designed for use in mains powered applications such as power distribution units, breaker panels and generator sets in industrial, commercial and residential markets. A universal 85 to 264VAC (@47 to 63Hz) operating voltage allows use worldwide, and users can choose from models with a range of either 0-30A (with 0.01A resolution, 7200W max.), or 0-100A (with 0.1A resolution, 9999W max.). Power consumption is less than 0.25W (from a 120VAC supply).

A front panel selector switch provides two modes of operation: a fixed reading of any of the four parameters, or a continuous cycling through of all four measurements. An optional model is available that is also able to display line frequency with 0.1Hz resolution. All ACM20 multi-function Power Meters include built-in current transformers and require no user supplied components.

With a large 0.36in. (9.2mm), four-digit, bright red LED display, ACM20 series' measurements can be easily read from distances of up to five metres. The one-piece, vibration resistant polycarbonate housing is suitable for installation in vertical 0U and 1U rack spaces, and the surface mount design with overall dimensions of 2.1in. (53.3mm) x 1.43in. (36.3mm) x 0.51in. 12.95mm) occupies minimal panel space. Operating temperature range is 0°C to +60°C.

Pricing for ACM20 AC Power Meters is $65 in singles and drops to $42.90 at 100 pieces. Small quantities (less than ten) are available from stock, while OEM quantities are 12 weeks ARO.

John Sutherby
Director, Marketing Communications
+1-508-339-3000 ext.117

About Murata Power Solutions
Murata Power Solutions (www.murata-ps.com) is headquartered in Mansfield, Massachusetts, with over 1,300 employees, and locations in the USA, Canada, United Kingdom, France, Germany, Singapore, Japan and China. Murata Power Solutions designs, manufactures and distributes DC/DC Converters, AC/DC Power Supplies, Magnetics, Data Acquisition devices and Panel Meters, and offers these products in custom, standard and modified-standard variations. These products, which are built to exacting requirements in ISO9000:2000-approved facilities, are typically used worldwide within telecommunications, computing, industrial and other high-tech applications.

About Murata
Based in Kyoto Japan, Murata Manufacturing Company Ltd is one of the world's leading providers of ceramic based components, sensors, and AC/DC and DC/DC power solutions. Founded in 1950, the company has over 34,000 employees worldwide, and over $6.3 billion US in consolidated annual sales (as of March 31, 2008). Everywhere in the world, wherever you can reach, Murata's electronic components are always at work.

---