AC Drive reduces total harmonic distortion.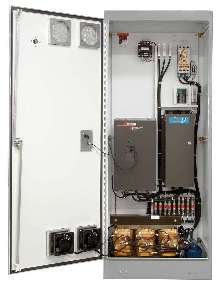 AC Drive reduces total harmonic distortion.
April 16, 2003 - Built on GP10, 18-pulse, Vector AC drive platform, HR1018 Harmonic Reduction Technology package incorporates integrally mounted 18-pulse transformer in 1, pre-engineered, NEMA 12 or NEMA 3R enclosure. Unit offers microprocessor and Insulated Gate Bipolar Transistor (IGBT) technologies as well as set of monitoring, maintenance, and protective functions. Unit provides static, dynamic, and on-line tuning.

(Archive News Story - Products mentioned in this Archive News Story may or may not be available from the manufacturer.)
Original Press release

Saftronics, Inc.
5580 Enterprise Pky.
Fort Myers, FL, 33905
USA


'Harmonic Reduction Technology' Minimizes Distortion Problems while Boosting Power Quality and Cost Savings
Fort Myers, FL - Saftronics, an innovator of advanced, energy-saving variable-speed drives and starters for electric motors, is now offering the HR1018 Harmonic Reduction Technology package, an18-pulse AC drive that reduces the total harmonic distortion common to standard 6-pulse drives. By greatly reducing harmonic distortion, the HR1018 minimizes interference that can impair sensitive electronic equipment such as computers, sensors and communications devices as well as minimizing heating in motors, transformers and wiring. At the same time, the HR1018 improves power factor to help companies avoid utility penalties based on power factor, current distortion and peak demand charges.

The HR1018 is designed to meet IEEE 519-1992 requirements at the drive terminals - without the cost and complexities of external filters or other equipment typically required to reduce harmonics.

Built on the powerful Saftronics GP10 Vector AC drive platform, the HR1018 incorporates an integrally mounted 18-pulse transformer that provides exceptional efficiency and low harmonic distortion in a single, pre-engineered enclosure. The product has low installation and commissioning costs, plus the promise of high ROI, in power sizes to 800 Horsepower. Designed to meet industry's demands for clean power, the HR1018 offers the latest in microprocessor and IGBT (Insulated Gate Bipolar
Transistor) technologies in the best combination of size, cost and performance.

The HR1018 features a comprehensive set of monitoring, maintenance and protective functions, assuring safe, efficient and reliable operation in the most demanding environments. The static, dynamic and on-line tuning available on the HR1018 delivers accurate motor and drive performance while ensuring motor operation at peak efficiency. The IGBT output incorporates 4th Generation Soft Switching Technology, enabling longer motor cable runs without the need for costly output filters. Prepackaging is available in a single NEMA 12 or NEMA 3R enclosure.

HR1018 system options include input circuit breaker, fused and non-fused disconnect, three-contactor manual, auto or SMART® Bypass, and integrated reduced voltage soft-start bypass. VFD serial communications options include MODBUS RTU 485 (standard), Johnson Metasys N2, Siemens P1 and LonWorks.

For over 30 years, Saftronics has been designing, manufacturing, distributing and servicing a full range of solid-state motor controls for industrial automation around the world. From fractional horsepower to several thousand horsepower, Saftronics offers products to optimize every application requiring control of speed and torque of electric motors.

Saftronics operates from its head office in Fort Myers, Florida, and has engineering centers located in Salt Lake City UT, Charlotte NC, Portland OR, Calgary Alberta, Los Angeles CA and York PA. Saftronics also serves customers worldwide through their network of distributors and authorized service centers. For more information write 5580 Enterprise Parkway, Fort Myers, FL 33905; Phone (239) 693-7200; Fax (239) 693-2431; E-mail jcherney@saftronics.com; or visit the web site www.saftronics.com
---


Start Your

Free


Subscription to


Industry Market Trends

.