Product News: Electrical Equipment & Systems
AC-DC Converters feature plug-in cassette format.
Press Release Summary: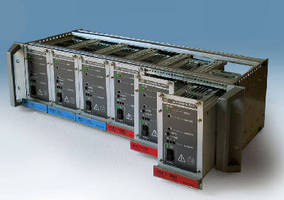 April 17, 2013 - Available with input voltage of 115 or 230 Vac, HCE Series includes 11 models that provide outputs of 0–125 V through 35 kV, at 0–7, 35, 140, or 350 W of output power. High-voltage regulated units are compatible with Euro cassette rack and 19 in. rack chassis. Digital ready analog remote control enables constant voltage/constant current control and mode monitoring as well as remote enable/disable control and monitors for measurement of output current and voltage.
Original Press Release
Ultravolt® Launches Euro-Size HV Cassette Power Supplies
Press release date: April 1, 2013
INTRODUCING THE HCE SERIES OF REGULATED AC-DC CONVERTERS

RONKONKOMA, New York –  UltraVolt, Inc., a world-leading manufacturer of high-voltage power supplies and high-voltage power systems, announced today the launch of its new line of AC-DC regulated High Voltage converters in a convenient plug-in cassette format – the HCE Series.

The new HCE line offers 11 models that provide outputs of 0 to 125V through 35kV, at 0 to 7, 35, 140, or 350 watts of output power. HCE Series units are available with an input voltage of either 115VAC or 230 VAC. The HCE Series modules are compatible with popular Euro cassette rack & 19" rack chassis. The HCE Series addresses the need for plug-in HV modules that allow the system designer to build out a rack chassis as needed. The HCE Series is designed and built utilizing state-of-the-art power-conversion topology; these units feature design, manufacturing process, and encapsulation techniques that provide high reliability and offers indefinite High Voltage output short-circuit protection and arc protection.

The digital ready analog remote control enables constant voltage/constant current control (CVCC) & mode monitoring as well as remote Enable / Disable control and monitors for measurement of output current and voltage. The front panel controls include an AC power switch, Local/Remote control switch and screwdriver set Constant Voltage/Constant Current Controls (CVCC) with LED mode indicators. A portable meter can be used via front panel pin jacks to measure output current and voltage.

Typically, HCE Series based systems are used by:
Capital equipment designers who can select multiple modules to create sub-systems to operate process control, manufacturing, test & measurement ATE, and analysis machines for operating detectors, emitters, electrostatics, and actuators.
R&D system designers who can select multiple modules to develop optimized experiments, proof-of-concept equipment, and one-of-a-kind devices.

"UltraVolt is excited to expand our products for customers requiring a complete user configured HV solution", said James Morrison, CEO and Co-Founder. "The HCE series modules give users a good performance full function AC line operated High Voltage DC source that can be combined with other modules to operate equipment at many levels of complexity and enables our customers to get the job done; With this unit we continue Making High Voltage Easier® by meeting the needs of our customers' diverse applications."

For more information, please contact UltraVolt's customer service department or visit www.ultravolt.com.

About UltraVolt, Inc.
UltraVolt, Inc. is a world-leading manufacturer of a comprehensive range of standard-product high-voltage power supplies and systems. UltraVolt offers world-class support to customers searching for high-voltage power supplies with short lead times and nominal to high performance for efficiency, accuracy, stability, and ripple. UltraVolt product lines range from benchtop and rackmount systems to microsize PCB-mount modules with outputs of 0 to 62V through 0 to 40kV at 0 to 100mW to 15kW. Founded in 1990, the company is based in Ronkonkoma, NY. For more information, call +1 (631) 471-4444 or visit http://www.ultravolt.com.

UltraVolt, Inc.
Making High Voltage Easier!®