3D Inspection System is capable of sintering paste evaluation.
Press Release Summary: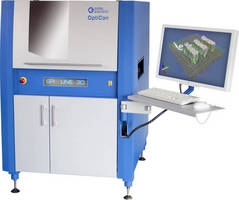 July 16, 2014 - With hardware and software adaptions, SPI-LINE 3D electronic solder paste inspection system handles inspection of printed sintering paste in electronic assemblies manufacturing. High-speed 3D camera head can capture thin sintering paste layers with precision, while integrated algorithms enable evaluation of sintered paste printing in addition to accurate and rapid measurement of height, volume, and offset of applied sintering paste. UI also facilitates test program generation.
Original Press Release
Three Dimensional Inspection of Sintering Paste In-Line
Press release date: July 10, 2014
GOEPEL electronic has developed a system for fast and reliable inspection of printed sintering paste in the manufacturing process of electronic assemblies. Special adaptions of hardware and software extend the established GOEPEL electronic solder paste inspection system SPI-LINE 3D to allow inspection of sinter paste with associated high demands.

The use of sintering paste is an alternative to the use of conventional solder paste. This type of connection technology allows tightest contact and material compression caused by high pressure at production temperatures below the melting point of the main components. Silver sintering contacts offer high power density and good electrical and thermal conductivity at high operation temperatures in demanding fields such as electric mobility, photovoltaic or wind engines.

Using silver sintering technology, comparatively large areas with much thinner layers (>about 50 µm) are connected than in conventional soldering technologies (>100µm). This means special requirements for quality assurance through 3D inspection systems in the production process. Therefore, GOEPEL electronic has enhanced the solder paste inspection system SPI-LINE 3D for the enormous demands of the sintered paste inspection. Core of the technology is the high speed 3D camera head which is able to capture the thin sintering paste layers extremely precisely. Notable is that the increase in precision is not accompanied by a reduction of the inspection speed. Even with the extension, the SPI-LINE 3D is one of the fastest and most accurate paste inspection systems on the market.

On the software side, more sophisticated algorithms for evaluation of the sintered paste printing were integrated in addition to the accurate and rapid measurement of height, volume and offset of the applied sintering paste.  The system also offers the familiar simple test program generation with intuitive software. It is still fully controllable via touchscreen, similar to handling a tablet PC.