Press Release Summary: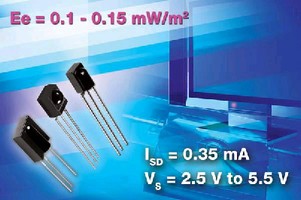 January 15, 2008 -
Original Press Release
Vishay's 3-V Infrared Receiver Series Offers Enhanced Sensitivity, 70% Reduction in Operating Current, Broader 2.5-V to 5.5-V Power Supply Range, and Improved EMI and ESD Immunity
Press release date: January 11, 2008
MALVERN, PENNSYLVANIA January 11, 2008 Vishay Intertechnology, Inc. (NYSE: VSH) today announced that it is upgrading the performance of its 3-V infrared receivers with a new-generation IC that doubles the sensitivity of the device under low-light conditions. The IC is one of the major determinants of performance in an IR receiver, along with the photo diode and the optical package itself. Sensitivity directly affects the range of a receiver, and is critically important in most infrared receiver applications. Further improvements resulting from the new IC include a 70% reduction in device operating current, to 0.35mA; a broader power supply range of 2.5V to 5.5V; and greatly improved immunity to EMI and ESD. Beginning this month the new IC will become a standard feature of all Vishay 3-V and 5-V infrared receivers in through-hole packages. The upgraded devices can be identified on the Vishay Web site by their part numbers beginning with TSOP3... (except SMD packages [TSOP36...]) and by the word "New" in the datasheet title. A complete listing of Vishays infrared receiver products is available at
www.vishay.com/ir-receiver-modules/.
No price increase is planned for the new series receivers, which effectively translates into an improved price / performance device for Vishay customers. IR receiver module pricing for U.S. delivery starts at $1 per piece for small-quantity orders. Vishay Intertechnology, Inc., a Fortune 1,000 Company listed on the NYSE (VSH), is one of the world's largest manufacturers of discrete semiconductors (diodes, rectifiers, transistors, and optoelectronics and selected ICs) and passive electronic components (resistors, capacitors, inductors, sensors, and transducers). These components are used in virtually all types of electronic devices and equipment, in the industrial, computing, automotive, consumer, telecommunications, military, aerospace, and medical markets. Its product innovations, successful acquisition strategy, and ability to provide "one-stop shop" service have made Vishay a global industry leader. Vishay can be found on the Internet at
www.vishay.com
. Worldwide Reader Contact: Vishay Intertechnology, Inc. info@vishay.com
www.vishay.com
Samples: +1 (619) 336-0860