Press Release Summary: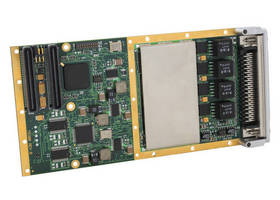 November 20, 2012 - Bohemia, New York - Data Device Corporation (DDC) adds variable voltage programmability to the BU-67210F/I/T one to four channel MIL-STD-1553 AceXtreme® PMC, PCI, and cPCI/PXI Card family to create a feature-rich and highly dynamic test, simulation, and verification tool. Each MIL-STD-1553 channel can be independently programmed for transmitter amplitudes ranging from 0V to 20.5V in order to fully ensure DUT (Device Under Test) out-of-bounds electrical functionality and compliance. Benefits include:
· Ensure DUT Compliance and Functionality
- Variable Voltage Facilitates Out-of-Bounds Electrical Testing
- Wide Amplitude Range (0V to 20.5V)
· Optimized for Test Labs
- Dynamic I/O Mix
- Multi-Function BC + Multi-RT + MT Versatility
- Full Error Detection and Injection "The addition of variable voltage functionality further extends the BU-67210F/I//T PMC, PCI, and cPCI/PXI card's versatility making it an ideal MIL-STD-1553 test and verification tool to support all levels of system and device testing, design, simulation, and verification," stated George Los, DDC's Data Bus Product Manager. Data Device Corporation (DDC) is the world leader in the design and manufacture of high-reliability data bus, motion control, and solid-state power controller products for aerospace, defense, and industrial automation applications. For more than 45 years, DDC has continuously advanced the state of high-reliability data communications and control technology for MIL-STD-1553, ARINC 429, Synchro/Resolver interface, and Solid-State Power Controllers with innovations that have minimized component size and weight while increasing performance. DDC offers a broad product line of advanced data bus technology for Fibre Channel networks; MIL-STD-1553 and ARINC 429 Data Networking cards, components, and software; Synchro/Resolver interface components; and Solid-State Power Controllers and Motor Drives. DDC headquarters along with our design and manufacturing operations are located in Bohemia, NY. For more information, visit www.ddc-web.com
Data Device Corporation - Bohemia, NY
Original Press Release
Variable Voltage Enhancement Creates a Dynamic and Powerful MIL-STD-1553 Test and Simulation Tool!
Press release date: November 16, 2012
Bohemia, New York - Data Device Corporation (DDC) adds variable voltage programmability to the BU-67210F/I/T one to four channel MIL-STD-1553 AceXtreme® PMC, PCI, and cPCI/PXI Card family to create a feature-rich and highly dynamic test, simulation, and verification tool. Each MIL-STD-1553 channel can be independently programmed for transmitter amplitudes ranging from 0V to 20.5V in order to fully ensure DUT (Device Under Test) out-of-bounds electrical functionality and compliance. Benefits include:
· Ensure DUT Compliance and Functionality
- Variable Voltage Facilitates Out-of-Bounds Electrical Testing
- Wide Amplitude Range (0V to 20.5V)
· Optimized for Test Labs
- Dynamic I/O Mix
- Multi-Function BC + Multi-RT + MT Versatility
- Full Error Detection and Injection "The addition of variable voltage functionality further extends the BU-67210F/I//T PMC, PCI, and cPCI/PXI card's versatility making it an ideal MIL-STD-1553 test and verification tool to support all levels of system and device testing, design, simulation, and verification," stated George Los, DDC's Data Bus Product Manager. Data Device Corporation (DDC) is the world leader in the design and manufacture of high-reliability data bus, motion control, and solid-state power controller products for aerospace, defense, and industrial automation applications. For more than 45 years, DDC has continuously advanced the state of high-reliability data communications and control technology for MIL-STD-1553, ARINC 429, Synchro/Resolver interface, and Solid-State Power Controllers with innovations that have minimized component size and weight while increasing performance. DDC offers a broad product line of advanced data bus technology for Fibre Channel networks; MIL-STD-1553 and ARINC 429 Data Networking cards, components, and software; Synchro/Resolver interface components; and Solid-State Power Controllers and Motor Drives. DDC headquarters along with our design and manufacturing operations are located in Bohemia, NY. For more information, visit
www.ddc-web.com