Press Release Summary: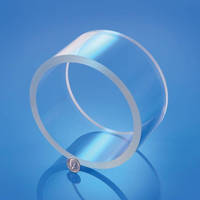 July 1, 2014 -
PEG, Inc. (Precision Electronic Glass) - Vineland, NJ
Original Press Release
Unique Large Bore Borosilicate Glass Sight Tube Meets Need for Oil Pipeline Visual Inspection
Press release date: June 27, 2014
Precision Electronic Glass (PEG), a leader in fabrication of glass parts for scientific, analytical or industrial instruments, fabricated a large bore borosilicate sight tube for viewing the contents of an oil pipeline in the field. The specifications for the sight tube called for shrinking the tube to a 9¾" bore. Operating in a large diameter of this nature calls for higher pressures, requiring a heavier wall or cross section of the borosilicate glass tube to withstand that pressure. The cross section of the tube needed to be greater than 1" and there is no material that thick on the market.
PEG decided to use a technique called laminating to fabricate the 1" cross section needed. This process involves fitting a smaller borosilicate glass tube inside a larger tube and fixturing them over tooling to fuse them together. Repeating the process several times results in several layers of borosilicate tubing to be fused together to achieve the desired thickness. This laminating process has been used to successfully fabricate a variety of components.
For more information call 800-982-4734, Fax: 856-691-6778, e-mail:
info@pegglass.com
or visit
www.pegglass.com
.
CONTACT:
RON MAZZUCCA
PRECISION ELECTRONIC GLASS
856-839-2758
RELEASE NO.: PEG0601-14