Press Release Summary: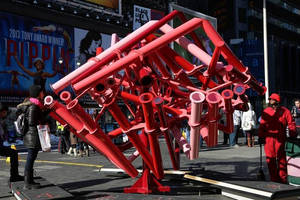 March 19, 2014 -
Trojan Powder Coating Co., Inc. - Bay Shore, NY
Original Press Release
Trojan Powder Coating Paints Modern Valentine for New York City
Press release date: February 13, 2014
Collaboration with Young Projects Unveiled in Times Square
New York, NY – Trojan Powder Coating is pleased to announce their partnership with Young Projects and Kammetal in bringing architect Bryan Young's award-winning concept to life. Match-Maker, a unique installation designed to connect perfect strangers, was selected by the Times Square Alliance and the Van Alen Institute as the featured design for this year's Valentine's Day heart.
Prominently displayed in Times Square, this innovative structure showcases interwoven aluminum periscopes which highlight the 12 astrological signs, offering a potential match for visitors looking through the webbed installation at their cosmically-aligned counterparts.
Trojan Powder Coating worked with manufacturer Kammetal to provide custom powder coating in various rich shades of merlot, cherry red, coral and light pink. The shiny bright hues introduced a dramatic effect to the structure. The sleek periscopes of the installation will convey a modern, fresh aesthetic for art lovers—and romantic hopefuls—this Valentine's Day.
Match-Maker will be on display in Father Duffy Square in Times Square until March 11, 2014.
For additional information on Trojan Powder Coating and for additional images, please contact:
Cristi Young
No.2 Creative
Cristi@number2creative.com