Press Release Summary: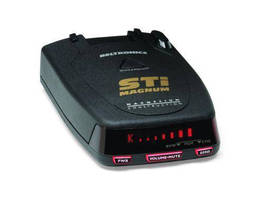 August 26, 2014 -
Original Press Release
Texas Limited Edition PASSPORT® Max(TM) All-digital Radar Detector Debuts at 2014 GATS Show
Press release date: August 20, 2014
Sporting a lone star state color skin, the PASSPORT® Max(TM) will appear alongside the BELTRONICS STi Magnum(TM) Stealth Detector
LAS VEGAS -- ESCORT Inc. (ESCORTinc.com), unique two-time winner of the detector category's top honor, SEMA Show 'Best New Product', announced the GATS Show debut of its all-new Texas Limited Edition model all-digital PASSPORT® Max(TM) High Definition windshield mount radar/laser detector.  The new model will be featured alongside the multi-award winning electronic stealth STi Magnum(TM) long-range detector from BELTRONICS.
The new Texas Edition PASSPORT® Max(TM) features a completely new Texas logo with red-white-blue lone star state color skin and is available for a limited time.  The electronic design is based on the record setting performance of the original PASSPORT Max(TM) high definition detector.  PASSPORT® Max(TM) holds three industry records:  fastest response time; longest reception range; and best sensitivity for detecting never-before-seen low level signals.
"Our PASSPORT Max(TM) digital detector is the most accomplished detector that we have ever produced," said David Thornhill, ESCORT President and CEO.  "The new Texas Edition release of the award-winning Max(TM) is one more exciting choice that we offer drivers helping them to uniquely satisfy their custom tastes - in this case, lone star drivers displaying lone star colors."
Beltronics will demonstrate the world's best performing stealth radar and laser detector, the Professional Series STi Magnum(TM) at the GATS Show.  The STi Magnum(TM) is the industry's most advanced radar detection technology tool designed exclusively for professional drivers.  The STi Magnum(TM) includes BELTRONICS patented TotalShield(TM) Technology which eliminates all radio frequency emissions and renders the STi Magnum(TM) completely undetectable to any radar detector detector enforcement receivers.
Both products will be on display at this week's Dallas GATS Show, Thursday through Saturday, August 21-23 (booth 24132).
For more information about the Texas Edition PASSPORT® Max(TM) all-digital detector or the BELTRONICS STi Magnum(TM) Stealth Detector, view ESCORT Inc on youtube, visit ESCORTinc.com or call the company direct at 800.433.3487.
About ESCORT Inc.
ESCORT Inc. is the designer and manufacturer of the world's most awarded radar and laser detectors, the patented ESCORT Live(TM) real-time ticket protection network, PASSPORT® Max(TM) HD radar detector, Laser Shifter Pro(TM) laser defense system and other Drive Smarter products.  ESCORT holds more than 85% of all active category patents and manufactures products under the ESCORT, PASSPORT, REDLINE, SOLO and BELTRONICS brands.
ESCORT Video:
http://www.youtube.com/user/RadarLaserExpert?source=%GATS14text=MaxYTDayOne
ESCORT Twitter:
https://twitter.com/escortradar
ESCORT Facebook:
http://www.facebook.com/DriveSmarter