Press Release Summary: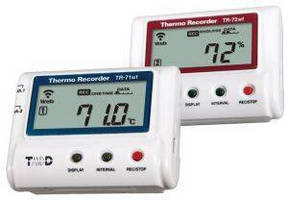 March 3, 2014 -
Original Press Release
T&D Discontinues Production of RTR-5 Series Products
Press release date: February 26, 2014
CAS DataLoggers Offers the Latest T&D Temp & RH Recorders
CHESTERLAND OH – Japan's #1 datalogger manufacturer T&D is officially notifying customers of the discontinuation of production of their RTR-5 Series products. T&D will soon exhaust its stock of components for production, and when the stock is depleted they will no longer be available. Meanwhile CAS DataLoggers customers can continue to rely on T&D's bestselling RTR-500 Wireless Series to remotely record temperature, humidity, 4-20 mA, pulse, voltage and more. We're also offering the all-new TR-7wf Wireless LAN data loggers which have a FREE monitoring app for iOS and Android giving you direct access to your data from a smartphone or tablet--without the need for a network!
Each logger in the series captures data on 2 channels using an external thermistor sensor. T&D's TR-71wf model records temperature while the TR-72wf unit simultaneously records temperature and humidity. We also offer the high-precision TR-72wf-H model for even greater accuracy in the most demanding applications. Our new WiFi series is idea for monitoring medical storage units, for temperature monitoring in cold chain storage, HVAC performance validation, and more. As always, T&D products feature a compact yet rugged design to last over years of reliable operation.
T&D's TR-7wf Data Loggers Allow You to:
• Automatically Transmit Your Data --These data loggers automatically upload their recorded data over wireless LAN to T&D's FREE WebStorage cloud service. You'll also get an instant email alert whenever any reading goes outside of your configurable limits. This is the earliest way to get a heads-up when your product is in danger or environmental tolerances have gone out of spec.
• Check Your Data Wherever You Go--Using T&D's ThermoWeb Mobile App for iOS and Android, you can view data remotely on your smartphone or tablet through the logger's built-in Access Point Mode.
• Analyze Your Data Using Graph Tools—Access graph displays and real-time data from your mobile device using ThermoWEB for later analysis on PC using the free T&D Graph software.
T&D developed ThermoWEB as an ideal way to communicate with TR-7wf data loggers and remotely manage your data. Using ThermoWEB you can directly communicate with a data logger and also view all recorded data uploaded to our cloud service. This innovative app also interfaces with your mobile devices for making/changing device settings, downloading recorded data from the TR-71wf/72wf, and viewing graphs onscreen.
Checking your data and getting alarms on the go has never been this easy! Call us today and learn more about these versatile new products.
For more information on T&D's new TR-7wf data loggers which send your temperature and humidity data directly to your mobile device, or to find the right product for your unique project, give a CAS Data Logger Applications Specialist a call at (800) 956-4437 or visit the website at
www.DataLoggerInc.com
.
Contact Information:
CAS DataLoggers, Inc.
12628 Chillicothe Road
Chesterland, Ohio 44026
(440) 729-2570
(800) 956-4437
sales@dataloggerinc.com
www.dataloggerinc.com