Press Release Summary: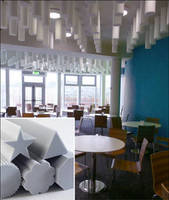 July 26, 2010 -
pinta acoustic, inc. - Minneapolis, MN
Original Press Release
Pinta Acoustic Introduces pinta RONDO(TM) Baffles
Press release date: July 21, 2010
MINNEAPOLIS-Unique pinta RONDO Baffles offer exceptional sound absorption across all frequencies with a noise reduction coefficient (NRC) of 0.75 and 2.72 sabins per unit. pinta RONDO Baffles are ideal for large open spaces, including conference rooms, reception areas, libraries, production facilities, classrooms, gymnasiums, aquatic centers and stadiums.
pinta acoustic has offered RONDO in Europe for several years, and the product has been installed in the BMW facility in Munich, Germany, E.ON offices in Düsseldorf, Germany and in the St. Jakob Arena in Basel, Switzerland. The product will be manufactured in the United States for distribution in North America.
"pinta RONDO Baffles are unique looking and are an effective acoustical sound absorption solution that can help distinguish any large open space," says Joerg Hutmacher, business unit manager for pinta acoustic. "pinta RONDO Baffles are further proof that acoustical products can contribute to aesthetics."
Class 1 fire-rated pinta RONDO Baffles are made of willtec® foam, are compact in size and available in natural white and light grey. pinta RONDO Baffles are offered in lengths up to 24 inches and in diameters of 6 inches, or in custom sizes.
pinta RONDO Baffles are easy to install and can be configured vertically or horizontally, above or below ceiling lights. The product features a corkscrew hanger that is installed in the field for either wall-to-wall cable or ceiling-mounted cable installation.
For information about pinta RONDO Baffles, visit
www.pinta-acoustic.com
or call 1-800-662-0032 or +1 612-355-4200.
pinta acoustic, inc. manufactures a broad range of attractive ceiling tiles, wall panels and other acoustical materials for commercial and industrial applications, including CONTOUR® Ceiling and Wall Tiles, HARMONI Ceiling Tiles, WHITELINE® Ceiling Tiles, SQUARELINE® Metal Ceiling Tiles, BIOLINE® Wood Ceiling Tiles, PHONSTOP(TM) Ceiling and Wall Tiles, WHISPERWAVE(TM) Panels, Baffles, Ceiling Clouds and Awnings, FABRITEC Wall Panels, SONEX® Panels and Baffles, SONEX Clean Baffles, Panels and Ceiling Tiles, PROSPEC Decibel Drop(TM) Viscoelastic Damping Compound, PROSPEC® Barrier, Foam and Composite Materials and Ceiling Grid products.
pinta acoustic, inc. 2601 49th Avenue North, Ste. 400 Minneapolis, MN 55430 USA Tel.: +1 612.355.4200 Toll free: 1.800.662.0032 e-mail: sales@pinta-acoustic.com
www.pinta-acoustic.com
Please send all leads generated from this press release to sales@pinta-acoustic.com.