Press Release Summary: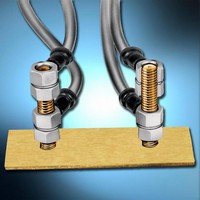 February 14, 2008 -
Original Press Release
PEM® Type HFHB Busbar® Clinch Studs Provide Superior Electrical/Mechanical Attachment
Press release date: February 6, 2008
PEM® Type HFHB BUSBAR® self-clinching studs provide ideal solutions for applications demanding superior electrical/mechanical attachment points in copper. These phosphor bronze externally threaded fasteners offer twice the conductivity of conventional carbon steel studs.
The RoHS-compliant studs install permanently in copper sheets as thin as .050"/1.3mm and have been engineered for high-strength attachment applications. Pushout values up to 560 lbs./1115N and torque-out values up to 18 ft. lbs./25Nom can be achieved, depending on fastener thread size and the thickness of the host copper sheet. Improved pull through resistance is promoted by their large-head design, which allows the stud's head to project above the sheet material and distribute the axial tightening force over a wide area.
Thread sizes range from #10-32 through 3/8-16 and M5 through M10. Studs can be specified in a variety of lengths up to 2.00"/50mm.
Detailed specifications (Bulletin FH) and free parts drawings (PEM CAD Library) for these fasteners can be found at
www.pemnet.com
Contact Michael J. Rossi, PennEngineering®, 5190 Old Easton Road, Danboro, PA 18916-1000 USA. Phones: 800-237-4736 (toll-free in the U.S.) or 215-766-8853; Fax: 215-766-0143. Web site:
www.pemnet.com