Press Release Summary: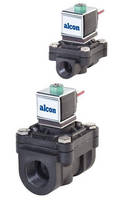 June 23, 2010 -
Original Press Release
New ITT-Alcon Electronic Latching Valve Ideal for Green Designs
Press release date: June 8, 2010
Santa Ana, CA - Alcon® (www.ittsolenoidvalves.com), a leading manufacturer of solenoid valves and subsidiary of ITT Corp., has announced an energy efficient solenoid valve for general purpose markets. "ITT-Alcon has been a leading manufacturer of specialty latching actuators for specific market segments, including the plunger-lift industry," said Nate Maguire, Alcon product manager. "Recently, ITT has modified and improved this technology allowing us to introduce this new general purpose, energy efficient valve."
A standard two way normally closed solenoid valve must be energized continuously to remain open. The reciprocal is true for normally open valves. However, constant draw to operate the solenoid drains batteries and consumes more energy than necessary. ITT- Alcon's latching valve operates using a 50 millisecond pulse, eliminating the constant energy draw. This means that periods of prolonged valve inactivity require no power. Any application requiring infrequent valve switching would be a prime application for this type of energy efficient valve.
For more information about Alcon solenoid valves, call 714-628-8104 or visit them at
www.ittsolenoidvalves.com
.
ITT - Alcon
Alcon (www.ittsolenoidvalves.com) is a leading manufacturer of customizable solenoid valves and value added systems used in a wide variety of markets. Headquartered in Santa Ana, California, Alcon products are sold worldwide through sales representatives and authorized distributors. Alcon is part of ITT Corporation and has manufacturing facilities in North America and Europe.
ITT Corporation
ITT Corporation is a high-technology engineering and manufacturing company operating on all seven continents in three vital markets: water and fluids management, global defense and security, and motion and flow control. With a heritage of innovation, ITT partners with its customers to deliver extraordinary solutions that create more livable environments, provide protection and safety and connect our world. Headquartered in White Plains, N.Y., the company generated 2009 revenue of $10.9 billion.
www.itt.com
.
Contact Information:
Rich Occhipinti
978-282-5259
Rich.Occhipinti@itt.com
ITT Alcon
666 E. Dyer Road,
Santa Ana, CA 92705
USA
Tel: 1 714 557 4700
Fax: 1 714 628 8478