Press Release Summary: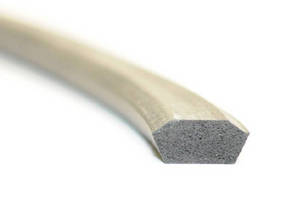 May 21, 2014 -
Original Press Release
Moldtech Inc.'s Custom Seal Eliminates Gaps and Leaks
Press release date: May 20, 2014
Lancaster, NY, – Moldtech Inc. was asked to develop a seal to replace an ineffective sponge critical to the chemical, biological, radiological and nuclear defense arenas. The difficulties were many, including that the gasket was rectangular, and the space between the mating surfaces was trapezoidal. The two external surfaces were aluminum plates, each with half of the trapezoidal shape machined into them in a circular pattern.
The customer's initial solution was a single, straight strip of foam/sponge (with a simple rectangular cross section) that was double back taped to one of the mating aluminum pieces. However, a leak path was present where the ends came together, and the straight part puckered where the tape met the aluminum surface as it was applied around the radius.
Their second solution was also double back taped into position, and it utilized a foam ring that had been die cut from a large piece of foam. However, cutting a sponge from a large piece of foam creates porosity at the edges as well as a huge amount of waste, and the die cut process also limits the cross section to a rectangular shape.
Within just two weeks, Moldtech had developed a part design and made a mold for a soft, dense rubber seal in the shape of the trapezoidal space between the plates. It showed promise, conforming to the aluminum plates and eliminating the gap. Unfortunately, testing showed that the load required to compress the seal during installation was too high, even with the exceptionally-soft 35-durometer rubber.
Armed with this information, Moldtech shifted to using sponge rubber instead of soft dense rubber, achieved by mixing blowing agents with existing rubber compounds known to resist chemical, biological, radiological and nuclear contaminants. Moltech quickly determined that the compressive force of the molded sponge rubber seal would be in the necessary range by extrapolating data from a force versus displacement curve taken on a small molded cross section between two fixtures that represented shape of the customer's plates. Full size gaskets were promptly molded and the Moldtech solution performed as expected, filling the pockets and sealing against more surface area, while providing the appropriate compression load.
In addition to molding the part, Moldtech quickly developed fixtures and tooling to facilitate the application of the double backed tape to the seal.
"This molded sponge seal is the right solution," says Rob Paladichuk, Moldtech VP of engineering and operations, "for any organization with a large, unusually-shaped gap that needs to be sealed, and a gap that a normal dense material could not sufficiently compress. We are very glad that, once again, we were given the opportunity to develop a customized solution for a unique situation."
About Moldtech Rubber, Inc.
MOLDTECH™ – expert design engineering and manufacturing of custom molded rubber parts to maximize cost savings and assure superior part performance. Moldtech utilizes a full line of elastomers in its custom production of a wide variety of molded rubber products. For more information, visit
www.moldtechrubber.com
or contact the company at 716.685.3344 or
sales@moldtechrubber.com
.