Press Release Summary: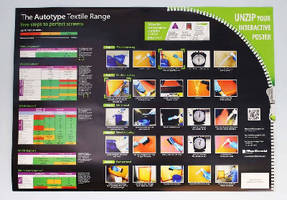 June 9, 2014 -
MacDermid Autotype, Inc. - Rolling Meadows, IL
Original Press Release
MacDermid Autotype Introduces New Augmented Reality Wall Chart
Press release date: June 6, 2014
This A1 sized wall chart gives step by step instructions on how to process the Autotype textile range of screen products to help you make perfects screens every time. Augmented reality tutorial videos are used to show some elements of the processing in even more detail, such as how to coat ultra thick stencils or how to use the Autotype brush pump.
The Autotype textile wall chart will prove to be an invaluable addition to your screen making area. For your free wall chart please email:
screen@macdermidautotype.com
For more information on the Autotype textile range please follow this link: Textile Applications Page
http://www.macdermidautotype
.com/applications/article/27-
the_autotype_textile_range
For further information contact: MarComms,
MacDermid Autotype, Grove Road, Wantage, Oxon, OX12 7BZ .
Tel: 01235 771111. Fax: 01235 771196.
pressrelations@macdermidautotype.com
www.macdermidautotype.com