Press Release Summary: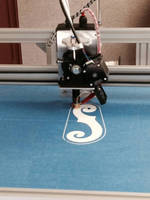 June 19, 2014 -
Original Press Release
John Wright Company Adds 3-D Printing Capabilities
Press release date: June 18, 2014
Wrightsville, PA – John Wright has expanded its manufacturing capabilities with the addition of a large scale three-dimensional (3-D) printer.  3-D printing allows nearly any object to be readily created in a layer-by-layer fashion from plastic.  John Wright is using the technology to make prototypes for visualization, testing, and marketing purposes.  With a build volume of up to 8 cubic feet, designs from large to small can be brought to life.  New product designs can be created in plastic and used to cast actual parts in aluminum and iron.  Additionally, older designs and parts can be scanned, printed, and faithfully recreated for the most demanding exact restoration projects.   
John Wright Company, Inc
1-800-444-9364
Info@jwright.com
John Wright Company is a manufacturer of top-quality, traditional hardware for shutters, doors, windows, furniture, and specialty applications.  Products combine modern high-quality finishes with the strength and time-honored look and feel of cast iron.  With products for both restoration and new construction, the diverse line includes shutter hinges, hold-backs, slide bolts, hooks, and special hardware along with door and cabinet hinges and knobs and many other products.
Brant Hershey
Product and Sales Engineer
John Wright Company, Inc.
PH: 717-252-4442 x446
FX: 717-252-3392
Toll-free: 800-444-9364 x446
Mobile: 717-683-2108