Press Release Summary: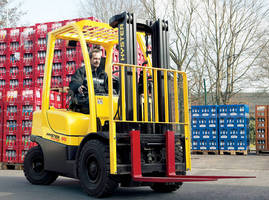 March 27, 2014 -
Original Press Release
Innovative Engine Technology Boosts Hyster® Lift Truck Productivity
Press release date: March 17, 2014
ATLANTA – To help customers decrease total cost of ownership, Hyster Company is deploying the new Kubota 2.5L premium LPG engine on its S40-70FT four-wheel cushion tire and H40-70FT four-wheel pneumatic tire Fortis® lift truck series. During this week's MODEX 2014 show, Hyster has its S60FT lift truck with Kubota 2.5L engine on display (booth #6313).
"Lift truck productivity is an end result of durability and intelligence. A truck must be able to stand up to the challenges of an application and provide the performance needed through its technology and features," said Brett Schemerhorn, vice president of marketing for Hyster. "The new Kubota premium engine technology now offered on the S40-70FT and H40-70FT delivers this performance and helps boosts customer lift truck productivity."  
By offering three performance modes, the new engine gives the right amount of power for the best fuel economy and performance combinations. Based on testing analysis of overall productivity, fuel economy and basic periodic service requirements, the engine allows the S40-70FT and H40-70FT lift truck models to move a load for less money than leading competitors.
The new Kubota engine also matches Hyster's need to deliver extreme durability to its customers by featuring the main components from a diesel engine, without using a lot of fuel. The new engine also reduces unit vibration for operators and noise levels for those working around the lift trucks—nine decibels less than the previous engine.    
About Hyster Company
Based in Greenville, N.C., Hyster Company (
www.hyster.com
) is a leading worldwide lift truck designer and manufacturer. Hyster Company offers 130 models configured for gasoline, LPG, diesel and electric power, with the widest capacity range in the industry — from 2,000 to 105,000 lbs. Supported by one of the industry's largest and most experienced dealer networks, Hyster Company builds tough, durable lift trucks that deliver high productivity, low total cost of ownership, easy serviceability and advanced ergonomic features; accompanied by outstanding parts, service and training support.
Hyster Company is part of NACCO Materials Handling Group, Inc. (NMHG), a wholly owned subsidiary of Hyster-Yale Materials Handling, Inc. (NYSE:HY). Hyster-Yale Materials Handling, Inc., headquartered in Cleveland, Ohio, and its subsidiaries employ approximately 5,100 people worldwide.
Hyster and are registered trademarks of Hyster Company.
For more information, please contact:
Ryan Fisher
Jackson Marketing Group
864-272-3023
ryan.fisher@jacksonmg.com