Press Release Summary: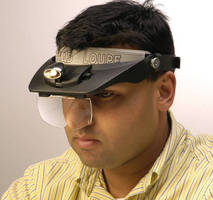 July 22, 2010 -
Original Press Release
Illuminated Headband Magnifier Merges Convenience and Precision
Press release date: July 22, 2010
An illuminated magnifier visor is among the most versatile and portable inspection instruments for basic industrial, medical and forensic applications.
A set of four clip-on enlargement lenses and lighting choices distinguish the Aven Headband Magnifier as an economical workbench or office tool. It's available in battery-powered models with a top-mounted LED light or 2.2-volt bulb.
"These lightweight magnifiers, as convenient to slip on as eyeglasses, provide pinpoint lighting and close-ups views," says Mike Shahpurwala, president of Aven, Inc., a manufacturer of precision tools and optical inspection systems. "They're ideal for users moving between workplace locations or handling varied tasks that don't all require magnification."
The Headband Magnifier also is handy for checking several areas on large objects, such as circuit boards, manufacturing welds or surface finishes. For spot inspections that don't require image capture, measurement software or laboratory-level magnification, a wearable accessory is more practical than a tabletop microscope or video imaging system.
In addition to assembly or fabrication technicians, engineers and inspectors, users include dentists, dermatologists, jewelers, document examiners, curators and appraisers. Aven Headband Magnifiers feature a comfortable, adjustable headband and lenses that snap in and out easily. The LED model, which provides 50,000 hours of illumination, comes with 1.5x, 2x, 2.5x and 3.5 lenses. The version with a center-positioned conventional light has lens powers of 1.2x, 1.8x, 2x and 3.5x.
Both styles are value-priced below comparable models from other suppliers. AAA batteries are not included. For more information, call Aven at (734) 973-0099. A digital catalog is at
www.aveninc.com
.
Aven, Inc. manufactures and distributes high-performance precision tools and optical systems for industrial, scientific, research and education applications. More than 750 products include video inspection systems, integrated portable microscopes, video borescopes, task lights, stainless steel tools for lab use and precision hand tools such as tweezers, pliers, cutters, screwdrivers, crimpers, knives and alignment tools. Brands include Mighty Scope, iLoupe, iVue, Accu-Cut and Athlet.
An electronics innovator since 1983, Aven is located in a high-tech corridor of Southeast Michigan and is the parent company of SharpVue, which designs and manufactures integrated digital microscope technology.