Press Release Summary: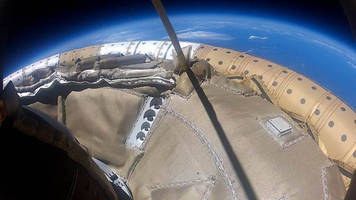 July 21, 2014 -
Original Press Release
ILC Dover Celebrates the Successful High Altitude Test of the NASA Low-Density Supersonic Decelerator (LDSD)
Press release date: July 18, 2014
ILC Dover worked closely with the Jet Propulsion Laboratory to design and fabricate the Supersonic Inflatable Aerodynamic Decelerator (SIAD-R) that was tested Saturday June 28th on the balloon launched LDSD vehicle.  SIAD-R is comprised of a high temperature fabric inflatable torus that rapidly inflates around the entry capsule at supersonic speed to slow the capsule before releasing a parachute.  This technology may someday be used for landing a large robotic system on Mars.
ILC has a long history of designing and building high temperature fabric aerodynamic decelerators beginning with air launched system ballutes and stabilizers in the early 1990's.  ILC designed and built the high temperature decelerator for the NASA Inflatable Reentry Vehicle Experiment (IRVE-2) that was launched on August 17th 2009.  IRVE-2 was the world's first successful demonstration of an inflatable decelerator to enter earth's atmosphere from space and decelerate to a subsonic speed.  
About ILC Dover (
www.ilcdover.com
)
ILC Dover is a world leader in the innovative design and production of engineered products employing high-performance flexible materials. Since 1947, ILC has provided engineered solutions to complex customer problems. Known for the production of space suits for NASA, we leverage our vast materials, engineering and design experience to create high performance Powder Handling Systems for pharmaceutical and life sciences customers, Personal Protection Equipment and Lighter than Air systems for commercial and government customers, and Intermediate Bulk Packaging solutions for multiple industrial markets.
ILC Dover... creating what's next
More information from the LDSD test can be found on the JPL website at
www.jpl.nasa.gov