Press Release Summary: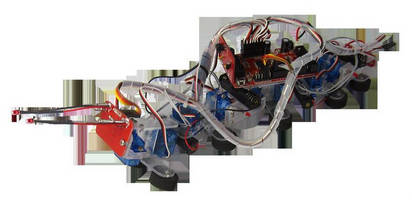 March 27, 2014 -
Original Press Release
Global Specialties Introduces the R500 Robotic Caterpillar
Press release date: March 26, 2014
Yorba Linda, CA — Global Specialties today releases the newest addition to its robotic line.... the R500 Robotic Caterpillar.
Programmable
With all the fun of a toy, the R500 is far from just that! It is a fully-programmable-in-C-language, AVR processor equipped robot with an I2C bus system for expansion and custom modifications.
Perfect School Project
The R500 comes unassembled and requires a minimal amount of soldering which makes it a perfect school project.
The Caterpillar is controlled by a powerful ATMEGA16 microcontroller that is programmable via open source tools in C. The robot comes with many example programs already written. Easily download them to the robot using the supplied USB interface and the RobotLoader software. Or write your own custom programs using the free open-source WinAVR software.
$199.00
Easy to Use
The Robotic Caterpillar makes it so easy to download your custom programs using the included RobotLoader software and connectors. Even simpler, upload the sample programs already written for the Caterpillar and you will have it crawling around in the grass in moments!
Contact:
Frank Menichello
National Director of Sales
frankm@globalspecialties.com
Global Specialties
22820 Savi Ranch Parkway, Yorba Linda, CA 92887
1-800-572-1028
globalspecialties.com