Press Release Summary: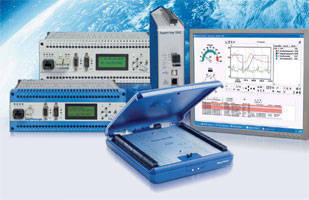 January 15, 2014 - Monitor Your Measurement Data Live from a Mobile Device

CHESTERLAND OH — Delphin Technology has extended its advanced ProfiSignal software with a powerful WebServer and a practical Trend-App to monitor measurement data live on their mobile devices and access historical data. As the North American Master Distributor for Delphin, CAS DataLoggers can help you to get your data acquisition application started quickly and implemented smoothly whether you work in research, testing or process control. Call an Applications Specialist at (800) 956-4437 today or visit our website at www.DataLoggerInc.com.

Delphin's Trend-App is simple to use and can portray online measurement data in a y(t)-diagram. Making pinching and stretching movements on a mobile device's screen enables users to zoom in on historical data and display any given time period. The Trend-App can be configured according to users' requirements with settings that include channel numbers, curve color, channel scales and time ranges.

The system is based on Delphin's popular DataService which acquires and records measurement data on a data server or PC workstation. The DataService can also simultaneously monitor measurement data and issue alarms in the event of limit value violations. Data preprocessing and calculation channels enabling averaging and statistical functions are also available. Versatile interfaces allow any type of software or hardware to be linked to the DataService.

Data storage is performed automatically on a database so the WebServer is able to directly access not only online data but also historical, archived data. Especially beneficial here are the Delphin system's fast response times even for data from long time periods. This high-speed data retrieval is made possible by an intelligent system of data compression where the WebServer, and therefore the app, receives only the data that needs to be portrayed.

The WebServer is capable of delivering data available to a set IP address or host name and port. In addition to connecting to the Trend-App, users can also access the data via an API in JavaScript for use in separate applications. The API is extremely powerful and is equipped with impressive functions to feed measurement data into web applications. Users who want to directly access online and offline data from Message or Expert Vibro devices via their web application are able to do so using a well-documented XML interface.

Delphin data loggers and data acquisition systems solve a variety of measurement and control problems in a wide range of industrial and laboratory applications. These sophisticated systems feature different analog and digital input and output modules for use with many different signal types including voltage, 4-20 mA current, thermocouple, RTD, and resistance. These instruments process measurements and initiate actions on their own for local data acquisition and logging when connected to a PC, remote online data collection, or as stand-alone devices. CAS DataLoggers offers users many different Delphin models for their specific applications:

•Â Expert Key - Measurement devices for PC-based data acquisition via USB/LAN
• TopMessage- Network-compatible and modular data loggers
• LogMessage - Independent data loggers with intelligent signal processing
• ProfiMessage - Modular measurement and automation systems for process signals
• Expert Vibro - Compact and modern vibration monitoring and analysis

Additionally, Delphin's ProfiSignal measurement and testing software gives users a full range of functions, an intuitive interface and high-level data security. ProfiSignal is ideal for data acquisition, test automation and process data acquisition applications, and has 3 different versions for small (up to 40 channels), medium (up to 250 channels) and large (unlimited channels) systems:

• ProfiSignal Go –Enables users to portray online data from Message and Expert hardware and is included with Expert and LogMessage devices.
• ProfiSignal Basic – Combines ProfiSignal Go functions with operating and monitoring elements for process visualization, e. g. digital and analog displays, switches, buttons and signal lamps.
• ProfiSignal Klicks – Extends ProfiSignal Basic with functions for process automation.

For more information on Delphin dataloggers, the powerful ProfiSignal software, or to find the ideal solution for your application-specific needs, contact a CAS Data Logger Applications Specialist at (800) 956-4437 or visit the website at www.DataLoggerInc.com. Â 

Contact Information:
CAS DataLoggers, Inc.
12628 Chillicothe Road
Chesterland, Ohio 44026
(440) 729-2570
(800) 956-4437
sales@dataloggerinc.com
www.dataloggerinc.com
Original Press Release
Delphin Technology Announces New Trend-App and WebServer
Press release date: January 14, 2014
Monitor Your Measurement Data Live from a Mobile Device
CHESTERLAND OH — Delphin Technology has extended its advanced ProfiSignal software with a powerful WebServer and a practical Trend-App to monitor measurement data live on their mobile devices and access historical data. As the North American Master Distributor for Delphin, CAS DataLoggers can help you to get your data acquisition application started quickly and implemented smoothly whether you work in research, testing or process control. Call an Applications Specialist at (800) 956-4437 today or visit our website at
www.DataLoggerInc.com
.
Delphin's Trend-App is simple to use and can portray online measurement data in a y(t)-diagram. Making pinching and stretching movements on a mobile device's screen enables users to zoom in on historical data and display any given time period. The Trend-App can be configured according to users' requirements with settings that include channel numbers, curve color, channel scales and time ranges.
The system is based on Delphin's popular DataService which acquires and records measurement data on a data server or PC workstation. The DataService can also simultaneously monitor measurement data and issue alarms in the event of limit value violations. Data preprocessing and calculation channels enabling averaging and statistical functions are also available. Versatile interfaces allow any type of software or hardware to be linked to the DataService.
Data storage is performed automatically on a database so the WebServer is able to directly access not only online data but also historical, archived data. Especially beneficial here are the Delphin system's fast response times even for data from long time periods. This high-speed data retrieval is made possible by an intelligent system of data compression where the WebServer, and therefore the app, receives only the data that needs to be portrayed.
The WebServer is capable of delivering data available to a set IP address or host name and port. In addition to connecting to the Trend-App, users can also access the data via an API in JavaScript for use in separate applications. The API is extremely powerful and is equipped with impressive functions to feed measurement data into web applications. Users who want to directly access online and offline data from Message or Expert Vibro devices via their web application are able to do so using a well-documented XML interface.
Delphin data loggers and data acquisition systems solve a variety of measurement and control problems in a wide range of industrial and laboratory applications. These sophisticated systems feature different analog and digital input and output modules for use with many different signal types including voltage, 4-20 mA current, thermocouple, RTD, and resistance. These instruments process measurements and initiate actions on their own for local data acquisition and logging when connected to a PC, remote online data collection, or as stand-alone devices. CAS DataLoggers offers users many different Delphin models for their specific applications:
• Expert Key - Measurement devices for PC-based data acquisition via USB/LAN
• TopMessage- Network-compatible and modular data loggers
• LogMessage - Independent data loggers with intelligent signal processing
• ProfiMessage - Modular measurement and automation systems for process signals
• Expert Vibro - Compact and modern vibration monitoring and analysis
Additionally, Delphin's ProfiSignal measurement and testing software gives users a full range of functions, an intuitive interface and high-level data security. ProfiSignal is ideal for data acquisition, test automation and process data acquisition applications, and has 3 different versions for small (up to 40 channels), medium (up to 250 channels) and large (unlimited channels) systems:
• ProfiSignal Go –Enables users to portray online data from Message and Expert hardware and is included with Expert and LogMessage devices.
• ProfiSignal Basic – Combines ProfiSignal Go functions with operating and monitoring elements for process visualization, e. g. digital and analog displays, switches, buttons and signal lamps.
• ProfiSignal Klicks – Extends ProfiSignal Basic with functions for process automation.
For more information on Delphin dataloggers, the powerful ProfiSignal software, or to find the ideal solution for your application-specific needs, contact a CAS Data Logger Applications Specialist at (800) 956-4437 or visit the website at
www.DataLoggerInc.com
.  
Contact Information:
CAS DataLoggers, Inc.
12628 Chillicothe Road
Chesterland, Ohio 44026
(440) 729-2570
(800) 956-4437
sales@dataloggerinc.com
www.dataloggerinc.com