Press Release Summary: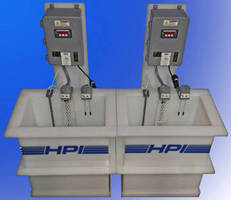 June 2, 2014 -
Original Press Release
HPI Processes Now Manufactures Custom Polypropylene Tanks
Press release date: May 28, 2014
Custom manufactured tank made out of Natural Polypropylene. Tanks can also be fabricated using PVC, CPVC, Polyethylene and PVDF. This tank includes a heater, temperature controller and a level control probe. These tanks can be used in metal finishing industry and or cleaning industry for various applications. Tanks can be fitted with various options, such as filter pumps, ventilation hoods, mechanical or air agitation, cooling coils.
About HPI
HPI Processes, Inc.,
www.hpipro.com
is a total capability company with a unique chemical and processing background. With over a quarter of a century of experience in the design, manufacturing and service of wet process, cleaning and wastewater treatment systems. HPI can assure you the greatest possible operating efficiency and trouble free maintenance from equipment built to your specifications. Some of the products and services HPI Processes, Inc. offers include:
• Industrial Wastewater Treatment and Recycling Systems
• Custom Wet Process Systems
• Plating and Electro-Polishing Systems
• Plastic, Fiberglass and Stainless Steel Fabrication Services
• On-Site Welding, Repair, Fabrication, Installation Services
Professional engineers and experienced technical designers can help incorporate and additional process into your existing system, or create a completely new process line tailored to your needs. Our systems are not "off the shelf" units that "almost" fit your needs. HPI systems are designed from your ground floor with the valuable input of your technicians and maintenance personnel. Total engineering assures you of a system that will operate according to your specifications.
Our professional expertise, along with hundreds of custom systems, givesHPI the ability to work out potential process and facility problemsBEFORE your system is installed.
HPI PROCESSES, Inc.
1030 REVENUE DRIVE
TELFORD, PA 18969
Phone: 1-215-799-0450
Fax: 1-215-799-0459
Toll-Free: 1-888-733-2832
DIRECT SALES
Joe Jacob - joe@hpipro.com
Rick Kromdyk - rick@hpipro.com
NON-STOP & DETERGENT SALES - Lori Herrmann - lori@hpipro.com
ENGINEERING
Joe Jacob - joe@hpipro.com
CUDA TECH SUPPORT - Rick Kromdyk - rick@hpipro.com