Press Release Summary: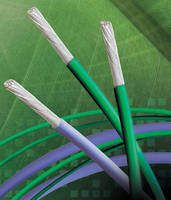 May 23, 2011 -
Original Press Release
Belden PPO UL AWM Hook-up Wire is Environmentally Friendly, Meeting ROHS and WEEE Requirements
Press release date: May 19, 2011
Belden PPO-insulated Hook-up Wire also merits use of Belden's GreenChoice product rating. PPO Wire does not release the type of environmental pollutants that are characteristic of traditional PVC-insulated wire. This fully recyclable product also outperforms PVC- and XLPE-insulated hook-up wire.
St. Louis, Missouri - Belden Inc. (NYSE:BDC), a global leader in signal transmission solutions for mission-critical applications, has introduced its PPO UL AWM Hook-up Wire as an environmentally-friendly alternative to traditional PVC-insulated and XLPE-insulated hook-up wire. PPO Wire also meets or exceeds the electrical and thermal characteristics of traditional products, while being smaller in diameter, lighter in weight, stronger and more durable.
Hook-up wire is used by a broad range of OEM manufacturers and markets, including: electrical panel builders; building construction and maintenance operations; manufacturers of electrical and electronic products; computer manufacturers; and the production and assembly of appliances, furniture, automobiles, and automotive components and systems.
Belden PPO UL AWM Hook-up Wire fully meets RoHS (Restriction on Hazardous Substances) and WEEE (Waste Electrical and Electronic Equipment) requirements because it is constructed of stranded tinned copper conductors and a Zero Halogen Polyphenylene Oxide (PPO) insulation that contains no halogens, phthalates or heavy metals. The absence of toxic materials means the product can be burned or disposed of safely without harm to people, animals or the environment. And unlike another zero halogen insulation, cross-linked polyethylene (XLPE), PPO is a fully recyclable compound.
Additional features of Belden PPO UL AWM Hook-up Wire include:
Superior dielectric strength enables a thinner wall thickness and an OD which is up to 45 percent smaller than equivalent wires
Electrical performance that meets or exceeds that of traditional PVC-insulated 600V wire
Increased flexibility and durability, with ten times better abrasion and pinch resistance than PVC-insulated wires
Excellent thermal properties over a wide operating temperature range (-40 degrees C to +105 degrees C)
Meets VW-1 UL 1581 flame rating requirements
Reduced weight by up to 40 percent, due to PPO's lower specific gravity/density as compared with PVC, polyethylene (PE) and XLPE insulations
Meets Belden's GreenChoice requirements

Belden's PPO UL AWM Hook-up Wire is available from stock in gauge sizes ranging from 28 to 10 AWG. Put-ups are 100 ft (30.5 m), 1000 ft (304.8 m) and 5000 ft (1524 m). For easy identification, the wires are color-coded in Brown, Red, Orange, Yellow, Green, Violet, Gray, White, Black, Blue, and Green/Yellow.

GreenChoice - Providing Environmentally Friendly Solutions to Our Customers

Because of Belden's commitment to providing environmentally-friendly solutions to our customers, the GreenChoice label has been created to allow easy identification that the product meets the strict environmental standards associated with Belden's environmental commitment.

Like the PPO UL AWM Hook-up Wire, all of Belden's environmentally-friendly products will soon be labeled as GreenChoice. This label confirms that the product will meet the needs of companies looking for a 'green' alternative to the products they traditionally use. Belden GreenChoice products will help them meet their earth-friendly goals since they are non-toxic and represent no danger to people, animals or the environment.

For more information on Belden's commitment to the environment through the elimination, or reduction, in the type of materials normally used in wire and cable design, see Belden's environmental overview.

Belden is committed to continuing to expand our line of products that meet the GreenChoice standards. If you have specific environmental needs, please consult with a Belden representative today.

For more information on Belden PPO UL AWM Hook-up Wire, download Product Bulletin 325. Review our website at: www.BELDEN.com, or call 1-800-BELDEN-1 (1-800-235-3361).

About Belden
St. Louis-based Belden Inc. designs, manufactures, and markets cable, connectivity and networking products in markets including industrial automation, enterprise, transportation, infrastructure, and consumer electronics. It has approximately 6,600 employees, and provides value for industrial automation, enterprise, education, healthcare, entertainment and broadcast, sound and security, transportation, infrastructure, consumer electronics and other industries. Belden has manufacturing capabilities in North America, Europe and Asia, and a market presence in nearly every region of the world. Belden was founded in 1902, and today is a leader with some of the strongest brands in the signal transmission industry. For more information, visit www.belden.com.

Contacts: Belden Chris Daulton 1-800-BELDEN-1 (1-800-235-3361)

Adventive Marketing, Inc. Janet Killen 847-590-1110