WIELAND Expands Wipos® P1 Single- and Three-Phase DIN Rail Power Supplies with Uninterruptible Power Supply and Redundancy Module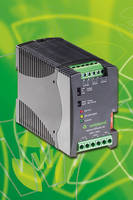 WIELAND Expands Wipos® P1 Single- and Three-Phase DIN Rail Power Supplies with Uninterruptible Power Supply and Redundancy Module
Click Here to Enlarge Picture
Wieland Electric Inc.
49 International Rd.
Burgaw, NC, 28425
USA



Press release date: October 19, 2012

BURGAW, NC - Wieland Electric Inc., a leading global manufacturer of innovative electrical interconnect technology, now offers a DIN rail-mounted uninterruptible power supply (UPS) and redundancy module to increase the uptime and reliability of control systems. These modules complement the company's existing P1 Series single and three-phase power supplies.

The P1 Series switch-mode power supplies are designed for industrial applications in control panels. The single-phase models are available in 12VDC, 24VDC, and 48VDC outputs, with amperage ranges from 1.25 to 20 Amps, and have a wide voltage input range (from 85 to 264 VAC and 90 to 375 VDC, depending on model). The P1 Power Supply Series has an operating temperature of -40ºC to +70ºC, and provides full output power at +60ºC. Standard features include PFC technology, hold-up time of greater than 30ms, adjustable output voltage, isolated status indicating contacts, and LED status.

All P1 Series modules are cULus and CE-listed. Certain models are UL 1310 Class 2 and Class 1 Division 2, hazardous location-rated.

The R20 redundancy module is designed to connect two power supplies in parallel and is rated at 20 Amps, with two inputs for power supplies and up to 20 Amps for one output to the load. The inputs are actively monitored by LED and changeover (NO/NC) isolated contacts for failure/OK status facilitating quick troubleshooting.

The UPS module is rated for 24VDC input and 30 Amp output, and when combined with commercially available lead acid batteries, will deliver continuous power. The length of backup time is dependent upon the size of the battery. The P1 Power Supply Series also features built-in battery test function; undervoltage, overvoltage, and polarity protection for the battery; LED status indicators; and change over (NO/NC) isolated contacts for battery, discharge and failure status.

Pricing for the Wipos redundancy module starts at $68.89 and the UPS module starts at $155.90, both with lead times of stock to 2 weeks.

Data sheets and installation instructions can be downloaded from the Wieland website in the e-Catalogue at http://eshop.wieland-electric.com and choose the interface technology window.

About Wieland
Wieland Electric Inc., founded in 1910, is a leading global manufacturer of electrical interconnect technology products. With headquarters in Bamberg, Germany; USA headquarters in Burgaw, North Carolina; and subsidiaries throughout the world, Wieland Electric provides electrical interconnect solutions to customers in the industrial & building automation, wind, solar, HVAC, and power generation markets. Local inventory and value added services in the USA support a national sales and distribution channel with stock and engineering support. ISO 9001 certified.


---