Sump Cleaners from Eriez® Hydroflow® Efficiently Filter Used Oils and Waste Coolants from Metalworking Machine Tools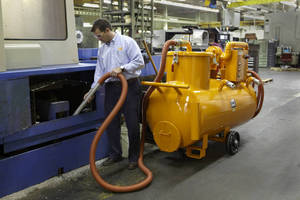 Sump Cleaners from Eriez® Hydroflow® Efficiently Filter Used Oils and Waste Coolants from Metalworking Machine Tools
Click Here to Enlarge Picture
Eriez Magnetics
2200 Asbury Rd.
Erie, PA, 16506
USA





Press release date: September 26, 2012

Erie, PA - The Eriez® Hydroflow® line of heavy-duty industrial wet/dry vacuum sump cleaner units clean virtually any machine tool sump, tank or pit quickly and thoroughly. Units range from the inexpensive top drum cleaners to the industry's widely-recognized sump cleaner.

Eriez offers six models of sump cleaners that clean metalworking machines effectively and efficiently, while minimizing downtime for machine tools:

Drum Top Sump Cleaner: This vacuum unit converts an existing open top drum into a powerful machine tool sump cleaner. The drum top is an economical alternative to a dedicated sump cleaner and fits onto standard 55 gallon (205 liter) open top drums. This unit is powered by an air venturi vacuum generator and comes with 10-foot (3 meters) suction hose.

Reversible Liquid Vacuum: This sump cleaner can fit into an operator's hand, yet it sucks up tramp oils, used oils and waste coolants quickly and easily. This unit will also discharge fluids out of the drum into a separate container, if desired, with just the turn of a knob. Contents of the standard kit include air venture unit, 10-foot (3 meters) suction hose, drum standpipe adapter, quick disconnect fittings, air control valve, safety shut-off valve and aluminum wand.

The Reversible Liquid Vacuum, which operates on shop air and is quieter than most industrial vacuums, is efficient at removing spent coolants, waste fluids or oils from machine sumps, reservoirs and storage tanks. It attaches easily to a small bung on a standard drum.

Sump Cleaner: This durable unit, available with single or twin compartments, ranges in capacity from 65 gallons (246 liters) to 1,000 gallons (3,780 liters). Push around, tow around or truck-mounted units are available. This Eriez Sump Cleaner removes the coolant, sludge and chips from the sump, filters the sludge and chips from the coolant, and returns the filtered coolant to the sump, or transports the coolant to waste treatment or to another Eriez Recycling System. A polypropylene filter sleeve filters to a nominal 50 microns. For finer filtration, a single-use paper filter sleeve (to 20 microns nominal) can be inserted into the chip basket.

The Sump Cleaner filters coolants rapidly and completely. In 10 minutes, a cylindrical grinder sump with 120 gallons (454 liters) of coolant and 700 pounds (317 kilograms) of sludge can be fully cleaned, coolant filtered and returned to the sump.

Single Compartment Sump Cleaner: This 50 gallon (190 liter), 120-volt single compartment unit makes an excellent addition to the smaller shop where floor space is at a premium and space around machine tools is limited. This push-around unit, which incorporates many of the same features and functions as the larger Eriez Sump Cleaner, has a suction rate up to 85 gallons per minute (320 liters per minute) and a discharge rate of up to 40 gallons per minute (150 liters per minute).

Push Sump Cleaner: This mobile unit is available with a single 275-gallon (1,000 liter) compartment or twin compartments of 100 gallons (380 liters) each. The push sump cleaner features center-mounted, high-impact ball bearing wheels for good maneuverability and low rolling resistance.

Truck Sump Cleaner: An Eriez Sump Cleaner can be assembled on an LP or electric industrial truck for added mobility within a plant. The single compartment unit can process up to 400 gallons (1,500 liters), while the twin compartment model can filter up to 200 gallons (750 liters) each.

For more information, visit www.eriez.com/Products/sumpcleaners/.

Eriez is recognized as world authority in advanced technology for magnetic, vibratory and inspection applications. The company's magnetic lift and separation, metal detection, x-ray, materials feeding, screening, conveying and controlling equipment have application in the process, metalworking, packaging, plastics, rubber, recycling, mining, aggregate and textile industries. Eriez manufactures and markets these products through 12 international facilities located on six continents. For more information, call toll-free (888) 300-ERIEZ (3743) within the U.S. and Canada. For online users, visit www.eriez.com or send email to eriez@eriez.com. Eriez World Headquarters is located at 2200 Asbury Road, Erie, PA 16506.


---