Quad Lights by KH Industries are Portable Industrial Lights that Withstand the Rigors of Airline Maintenance, Repair, and Overhaul (MRO) Operations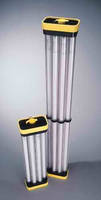 Quad Lights by KH Industries are Portable Industrial Lights that Withstand the Rigors of Airline Maintenance, Repair, and Overhaul (MRO) Operations
Click Here to Enlarge Picture


(Archive News Story - Products mentioned in this Archive News Story may or may not be available from the manufacturer.)

K&H Industries, Inc.
160 Elmview Ave
Hamburg, NY, 14075
USA




Press release date: May 15, 2012

Hamburg, New York: The Quad Light was designed specifically for the demands of Airline Maintenance, Repair and Overhaul (MRO) operations. Because of the Quad Lights durability and versatility it is also used extensively for military tents and temporary emergency shelters, and as portable temporary light for factory maintenance and repair.

KH's design of the Quad Light incorporates several unique features that allow it to stay intact and keep working in extremely harsh environments.

o Proprietary KH designed lamp shock absorbers keeps the bulbs stable in the event the Quad Light is dropped or impacted.

o The fluorescent bulbs have a laminate coating that contains the glass in the event breakage does occur. This keeps any cracked glass, powder, and mercury safely contained and allows easy clean up.

o The tubeshields are made from shatter-resistant polycarbonate.

o The aluminum backbone of the light provides structural support.

o Rubber end caps stay intact during accidental drops and falls.

In addition to its durability, the Quad Light outputs up to 11,800 lumens and can be used as a stand-alone light or up to12 lights can be daisy chained together for feed thru lighting.

The Quad Light is dual C/US CSA Certification.

To learn more, visit: www.khindustries.com/quad Or call: 716-312-0088

KH Industries is USA leading manufacturer of temporary lighting and power solutions for the utility, aviation, fleet, construction, manufacturing, chemical, petroleum and marine industries.


---