Nercon's Sanitary Conveyor Expertise Is Poised and Ready to Help Food Manufacturers Save Cost and Improve Efficiencies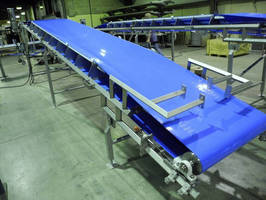 Nercon's Sanitary Conveyor Expertise Is Poised and Ready to Help Food Manufacturers Save Cost and Improve Efficiencies
Click Here to Enlarge Picture


(Archive News Story - Products mentioned in this Archive News Story may or may not be available from the manufacturer.)

Nercon Engineering & Mfg. Inc.
3972 S. Hwy. 45
Oshkosh, WI, 54903 2288
USA




Press release date: March 30, 2012

Oshkosh, Wisconsin - Having served Fortune 1000 food manufacturers with sanitary conveyor design and engineering services for more than 35 years, Nercon is positioning its engineering expertise and extensive fabrication capabilities to provide food processors with six levels of conveyor construction to leverage in their operations.

There are two significant trends affecting sanitary conveyor construction: One, governmental compliance regulations continue to be more stringent and two, companies are looking to cut cost on capital purchases as well as maintenance and cleaning. Nercon's engineering and fabrication team have worked together to enhance manufacturing processes; innovate on conveyor design and converge on universal components to create engineering efficiencies.

Continuous process improvements in the management of CNC machinery with CAD integration, provides extreme accuracy of parts which eliminates reworking in the field. Also the sophistication of the CNC equipment allows Nercon to produce sanitary components that might not otherwise be achieved. Whenever possible, we have taken the manual operations out of part production and redesigned it for high speed and highly accurate CNC production. In fact, Nercon's capable use of state-of-the-art fabrication equipment has recently increased throughput by 35%.

Nercon also continues to innovate on components to meet sanitation requirements while lowering the purchase cost. "One example is the sanitary channel support," says Mike Weickert, Director of Application Engineering, "which has a widened angle that is easily cleanable and meets most government compliance. Customers who have been using this design have given us positive feedback and it costs 25% less than tube supports."

Defining and positioning six levels of conveyor construction allows Nercon to streamline engineering processes and to create better price points for universal components. In addition to a company-wide directive on creating engineering efficiencies and improving specifications on Nercon's six conveyor construction levels, Nercon has developed white papers and webinars on how to leverage these designs (that meet USDA, FDA, BISSC, 3A and DAIRY compliance) in food plant operations.

For more information about Nercon Eng. & Mfg., Inc. and their offering in sanitary conveyor construction, visit http://www.nercon.com/Sanitary-Conveyor-Styles.htm.




---


Start Your

Free


Subscription to


Industry Market Trends

.