K-Tron Process Group to Introduce New Material Flow Aid, New Controls, and New K-Tron Premier Receiver Design, at PTXi 2010, May 4-6, 2010, Donald E. Stephens Convention Center, Rosemont, Illinois, Booth 1413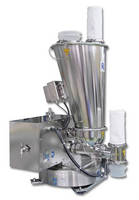 K-Tron Process Group to Introduce New Material Flow Aid, New Controls, and New K-Tron Premier Receiver Design, at PTXi 2010, May 4-6, 2010, Donald E. Stephens Convention Center, Rosemont, Illinois, Booth 1413
Click Here to Enlarge Picture


(Archive News Story - Products mentioned in this Archive News Story may or may not be available from the manufacturer.)

Premier Pneumatics, Inc., A Member of the K-Tron Process Group
606 N. Front St.
Salina, KS, 67402
USA




Press release date: March 25, 2010

PITMAN, NJ - K-Tron Process Group will exhibit several new additions to the K-Tron Feeder and K-Tron Premier product line at PTXi 2010 (Powder and Bulk Solids Show), May 4-6, 2010, at the Donald E. Stephens Convention Center, Rosemont, Illinois, Booth 1413. For more information and online booth preview, visit www.ktron.com/PTXi.

The K-Tron booth will feature the following powder and bulk processing equipment:

NEW Material Flow Aid: ActiFlow(TM)

K-Tron Process Group is proud to introduce ActiFlow (TM) Smart Bulk Solids Activator, an innovative method to reliably prevent bridging and rat-holing of cohesive bulk materials in stainless steel hoppers without internal hopper agitation. The ActiFlow design is a non-product contact device, consisting of a patent-pending vibratory drive and intelligent control unit, designed specifically to work with K-Tron's line of gravimetric loss-in-weight feeders. In loss-in-weight feeding applications where difficult flowing or cohesive materials form rat-holes or bridging in the hopper, K-Tron's new ActiFlow flow aid eliminates the need for mechanical agitation greatly simplifying the cleaning process. To learn more and to preview video, visit www.ktron.com/actiflow.

NEW Sanitary Receiver Design: K-Tron Premier P30

K-Tron Premier P30 Sanitary Receivers are designed to convey difficult powders for continuous conveying applications such as hopper loading and loss-in-weight feeder refill applications that require a high level of sanitary design and frequent cleaning. The design includes a variety of discharge valve types including power flap, orifice slide gate, and butterfly valve. The receiver body is made of stainless steel (DIN 1.4404, AISI 316L), with internal and external electro polished surfaces. Modular design allows for easy disassembly and cleaning, and simple expansion with volume extensions. Tri-Clover fittings allow for quick disconnection from conveying and vacuum piping. All units have reverse jet filter cleaning. Models available include P-10, P-30 and P-100 with conveying rates of up to 4,000 kg/hr (8,800 lb/hr). www.ktronpremier.com/PSeries

NEW K-Tron Premier Controller for Self-Contained Loader & Single Central Receivers

The LSR Controller consolidates several applications into one system allowing the LSR to control either a K-Tron Premier self contained loader or a single central receiver for pneumatically conveying a wide variety of bulk materials. The controller is locally mounted with all 24 VDC unit devices pre-wired. An auto-switching power supply accepts 115 or 230 VAC. The front panel of the controller includes a potentiometer to set draw times, on/off switch, and multicolored LEDs indicate power/alarm, loading status and dump status. Materials of construction include polycarbonate and stainless steel. www.ktronpremier.com/LSR

K-Tron Premier 2415 Stainless Steel Receiver

The K-Tron Premier 2415 Stainless Steel Receiver is designed to convey free flowing powders or granular dry bulk materials for continuous conveying applications such as hopper loading and loss-in-weight refill applications that may not require a high level of sanitary design or frequent cleaning. The design includes a variety of discharge valve types including gravity flap, orifice slide gate and butterfly valve. The receiver body is made of stainless steel (AISI 304) with internal and external mill surface finish as standard. Models are also available in painted aluminum and units are equipped with quick-release clamps to facilitate easy cleanup, filter maintenance and fast disassembly. The 2415 receiver offers a conveying rate of up to 1000 kg/hr (2200 lb/hr). Other models in the 2400 series of receivers provide convey rates up to 6,800 kg/hr (15,000 lb/hr) www.ktronpremier.com/2400

Single to Twin Quick-Change Feeder

K-Tron's T35/S60 Quick Change Feeder (QC) is designed for applications requiring quick changeover of materials and convenience of fast cleaning. The QC feeder allows for the removal of the entire feed hopper with screws and horizontal agitator in place and replaced with a second unit. The removed hopper can then be transported to a cleaning facility for further disassembly, cleaning and prepped for another material. www.ktron.com/QC

Low Rate Micro Cone Feeder

The Micro Cone feeder is highly innovative screw-less feeding mechanism that accurately doses free flowing color, masterbatch or additives into a blending system or directly into the extruder. Utilizing a simple induced flow rotating tube/cone, the Micro Cone Feeder doses down to a few granules at a time, with a feed rate range of 0.2 to 2 dm³/hr (0.007 to 0.07 cu ft). With use of an extension tip, the feeder can feed as low as 0.1 dm³. Minimum dispersive rate is approximately 2 pellets per second. With no pockets or screws, the design is simple, providing ease of use and almost zero maintenance. www.ktron.com/ConeFeeder

K-Tron Premier Series 4 Microprocessor Controller (Series 4 MPC)

The Series 4 Microprocessor Controller (Series 4 MPC) allows the operation of up to 24 vacuum receivers on one blower. The controller consists of a central control unit which features an easy-to-use, touch-sensitive keypad. The operator controls the whole system, including turning receivers on and off and setting draw times from one central location. The Series 4 MPC can be integrated into the K-Tron Smart Connex feeder controls, providing one simple control solution for both feeders and vacuum sequencing receivers. www.ktronpremier.com/MPC4

Other Equipment on Display in Booth 1413:

o ProBlendTM Zone Blender: for blending or homogenizing free flowing bulk material within a hopper or silo
o MT12 Micro ingredient Feeder: for extremely low rate feeding of free flowing to difficult powders and micropellets.
o K-PH-KT35 Pharmaceutical Feeder: Sanitary twin screw pharmaceutical feeder
o K-Vision: Human Machine Interface (HMI) for controlling up to 16 feeders in a single process line, offering advanced trending and logging capabilities, and supports all of the different feeding control types for both continuous and batch operation. Unit allows maximum flexibility with host communication protocols.
o Bulk Solids Pump(TM) Feeder line: a patented feeder line specifically designed and engineered to provide gentle, precise feeding of free-flowing pellets, granules, flakes, SAP, and friable materials without using screws/augers, belts, or vibratory trays to convey materials. These feeders utilize positive displacement action to move material uniformly, from storage hopper to discharge outlet via vertical rotating disc.
o Smart Weigh Belt (SWB-300): for gravimetric batch and continuous applications or for wild flow metering. Typically used where headroom is limited, or when feeding friable material that may be damaged by other feeders.
o Aerolock(TM) Rotary Valves (HD, MD, QC): units on display include the Heavy-Duty (HD), Maximum-Duty (MD), and Quick-Clean (QC) Aerolock. Designed for heavy-duty industrial service and high-volume efficiency, HD Aerolock performs at up to 15 PSI pressure differential and temperatures up to 225° F. The MD Aerolock is engineered for heavy to severe industrial service with pressure differentials up to 20 PSI and temperatures of +450°. The QC Aerolock is well suited for use in the food, chemical, plastics, and pharmaceutical industries where contamination is a concern.
o K-Tron Premier Receivers (2410 Vacuum Sequencing Receiver, Filter Receiver): The 2410 stainless powder receiver and the Filtair Series filter receiver will be on display, demonstrating continuous vs. sequencing system flow.
o K-Tron Premier Bin Vent (Modular Cartridge Bin Vent): provides excellent air filtration of fine airborne particles from within a storage tank and releases clean air to the atmosphere. While material is pneumatically conveyed into a storage tank, fine particles and air are efficiently separated by the unit's large cartridge filter.

For more show information visit www.ktron.com/PTXi.

About K-Tron Process Group: A global leader and single-source supplier for feeding, pneumatic conveying and systems engineering solutions. K-Tron has defined the leading edge of technology for material handling in process industries. K-Tron Process Group designs, produces, sells and supports its equipment under the brand names K-Tron Feeders and K-Tron Premier.
---


Start Your

Free


Subscription to


Industry Market Trends

.
Other News from this company:
K-Tron Process Group Introduces a New Material Flow Aid for Its Pharmaceutical Loss-in-Weight Feeders at Interphex 2010, April 20-22, Jacob Javits Convention Center, New York, NY, Both 2505
K-Tron Process Group in Collaboration with Reimelt Henschel, Maag Pump Systems, and Omya to Present Complimentary Seminar: "Compounding of Highly Filled Polyolefins" - March 25, 2010, Singapore and March 29, 2010, Shanghai, China
Hillenbrand to Acquire K-Tron International
K-Tron Process Group and Hosokawa Micron Powder Systems, to Present Complimentary Webinar - 'Innovations in Continuous Processing' - February 10, 2010, 2:00 pm (EST)
More ....