Davron Technologies, Inc. Supplies a Double Tier Conveyor Oven to Pre Heat Carpet Products and Padding for the Automotive Industry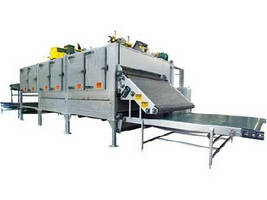 Davron Technologies, Inc. Supplies a Double Tier Conveyor Oven to Pre Heat Carpet Products and Padding for the Automotive Industry
Click Here to Enlarge Picture


(Archive News Story - Products mentioned in this Archive News Story may or may not be available from the manufacturer.)

Davron Technologies, Inc.
4563 Pinnacle Lane
Chattanooga, TN, 37415
USA




Press release date: January 5, 2011

Chattanooga, TN

Davron announces the shipment of a double tier conveyor oven to a worldwide tier one automotive supplier that manufactures interior trim products. This conveyor oven pre heats carpet products and padding simultaneously in two individual conveying systems.

The upper conveyor is a convection style oven that utilizes a natural gas burner for heating padding. The lower conveyor utilizes infrared panels, in individual zones of control, to allow for variations of heating across the complete surface of the carpet. "This system is on the leading edge of manufacturing technology within the automotive industry and utilizes the latest innovations in PLC control and plant monitoring/communication systems," says Ron Speicher, Davron President. "This system will allow our customer to improve both product quality and the efficiency of their plant due to the ability to produce both carpet and padding simultaneously in the same piece of equipment."

This system provides a very uniform temperature and airflow throughout the convection oven chamber and features a vertical up airflow.

"We have experienced much success with this type of oven system in the automotive industry." Says Mr. Speicher. "Davron continues to strive every day to exceed customer expectations and continue to build on our reputation as a world class oven manufacturer."

For additional information on this Double Tier Oven System contact Jimmy Evans at 423-870-1888 ext: 220, or e-mail us at sales@davrontech.com. For additional information on other custom oven systems or to request a quote please visit our website at www.davrontech.com.

Davron Technologies, Inc. is a major supplier and worldwide exporter of industrial ovens and provides turnkey design and system integration of thermal processing solutions. Davron also provides solutions for material handling, process equipment, and automated equipment applications.
---