Detailed contact information:
DPZ Series of DC/DC Converters are housed in UL94V-0 rated plastic case. Return to story
Latest New Product News from
ConTech
Electrical Equipment & Systems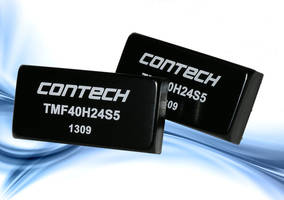 Jul 19, 2017
Featuring remote on/off, output trim and short circuit protection, TMF Series 40-Watt DC/DC Converter comes in 2 in. x 1 in. footprint. Operated in temperature range of -40 to +51°C, unit delivers single output of 3.3, 5, 12, 15 and 24VDC and dual outputs of ± 12 and ± 15VDC. Providing input voltages of 24VDC and 48VDC, product comes with thermal conductive potting compound.
Read More
Electrical Equipment & Systems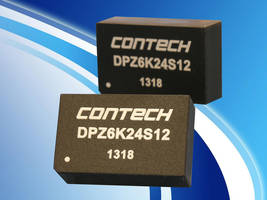 Apr 20, 2017
Offering 4:1 input range with nominal input voltages of 24VDC and 48VDC, DPZ Series of DC/DC Converters deliver up to 6 W fully regulated output power. Providing 3.3, 5, 12, 15, and 24 VDC single outputs and ±5, ±12 and ±15VDC dual outputs, units feature 3000VDC DC isolation. Operated in -40 to +85°C temperature range, converters come in DIP footprint and are RoHS compliant.
Read More