ABB Inc.
10300 Henri Bourassa Ouest, Saint-Laurent, QC, H4S1N6, CAN
Latest New Product News from
ABB Inc.
Electrical Equipment & Systems, Optics & Photonics, Sensors Monitors & Transducers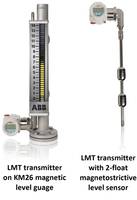 Feb 15, 2017
Available in LMT100 insertion and LMT200 non-intrusive styles, K-TEK LMT Series Magnetostrictive Level Transmitters allow easy change of orientation without any modification in equipment. LMT100 series comes with 22.86m probe. LMT200 series are used with KM26 magnetic level gauge. Delivering 4-20mA HART output, both series designs can be used as interface or as total level measurement.
Read More