CAS DataLoggers, Inc.
12628 Chillcothe Rd., Unit J, Chesterland, OH, 44026, USA
Detailed contact information:
Validating Brake Performance on a Prototype Passenger Car Return to story
Latest New Product News from
CAS DataLoggers, Inc.
test & measuring instruments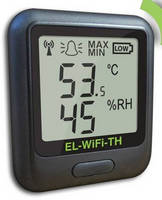 July 30, 2012
Rated IP55 and able to log 500,000+ data set entries, EasyLog Wi-Fi temperature and humidity data logging sensor is 802.11b-compliant and offers direct-to-USB connection. Programmable solution, able to record temperatures from -4 to +140°F, operates on rechargeable internal lithium polymer battery and lets users set sample and upload rates as well as alarm levels. Integrated display shows Max and Min temperature and RH readings, battery indicator, WiFi connection strength, and alarms. Read More
Other Company News from
CAS DataLoggers, Inc.