Enpirion, Inc.
685 Rte. 202/206, Bridgewater, NJ, 08807, USA
Detailed contact information:
WLM Alloy fosters 2D thin-film magnetic core development. Return to story
General Information:
Mark Cieri
USA
Phone: 908-894-6020

Latest New Product News from
Enpirion, Inc.
materials & material processing
November 29, 2012
Fe-Co based alloy, FCA, enables miniaturization of passive magnetic components and their assimilation with ICs at wafer level. Wafer level magnetics (WLM) take magnetic components to planar 2D thin-film form that can be deposited with standard wafer processes on top of CMOS wafers. Qualified for full-scale mass production in high-volume foundry, FCA enables Power SoCs based on electroplated WLM and can operate at frequencies above 20 MHz with minimal attenuation of magnetic properties. Read More
electrical equipment & systems, electronic components & devices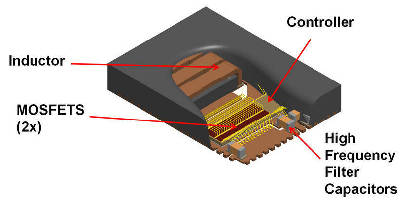 June 1, 2012
Offering compact footprints ranging from 4 A at 190 mm² to 15 A at 308 mm², EN2300 Series integrates controller, power MOSFETs, high frequency input capacitors, compensation network, and inductor. Devices support input voltage range of 4.5-14 V and output voltage range of 0.6-5 V. Achieving up to 95% efficiency with flattened efficiency profile from 10-100% load, PowerSoCs permit designers to manage power effectively over entire operating range. Read More
Other Company News from
Enpirion, Inc.