Powder Systems Inc.
320-T Cypress Rd., Ocala, FL, 34472, USA
Detailed contact information:
Metallic Filter Dryer streamlines lab scale filtration, drying. Return to story
Latest New Product News from
Powder Systems Inc.
chemical processing & waste management, laboratory and research supplies & equipment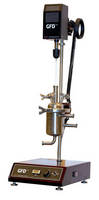 May 2, 2014
Intended for use in pharmaceutical and drug discovery laboratories, GFD® Metallic Lab Nutsche Filter Dryer comes in 3 sizes with vessel rated to temperatures from -25 and +150°C. GFD technology combines filtration, cake washing, and drying into one step, and product is fully recovered through filtration basket. Available in glass borosilicate 3.3, stainless steel 316L, and alloy C22, this vacuum lab filtration and drying unit offers direct scale-up abilities suited for feasibility studies and trials. Read More
Other Company News from
Powder Systems Inc.