Sherman + Reilly, Inc.
400 W. 33rd St., Chattanooga, TN, 37410, USA
Latest New Product News from
Sherman + Reilly, Inc.
Machinery & Machining Tools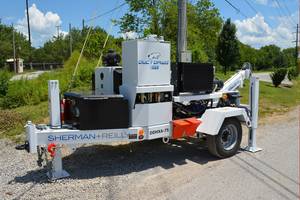 Sep 04, 2017
Featuring BOSS air compressor, Duct Dawg Air DDHXA-75/100 Underground Puller can pull up to 7,500 or 10,000 lbs. Unit is hydraulically driven and controlled wirelessly. Product comes in 16 ft footprint and uses CANbus technology. Underground Puller is suitable for utilities and contractors and comes with a 3-axis boom. DDHXA-75/100 is equipped with twin capstan bullwheels.
Read More
Material Handling & Storage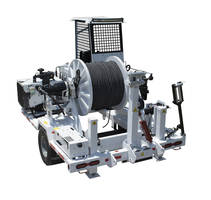 May 06, 2017
Equipped with dual purpose levelwind, reels and rope, PT-3000 Puller/Tensioner has capacity of pulling up to 3,000 lb overhead and up to 7,500 lb underground. Available in single and dual tire configurations suitable for cramped work areas and wet working conditions respectively, product comes with built in underground sheaves. PT-3000 features pad mount transformer attachment for handling... Read More